Takapuna Womens Fours. How well they did by Lindsay Knight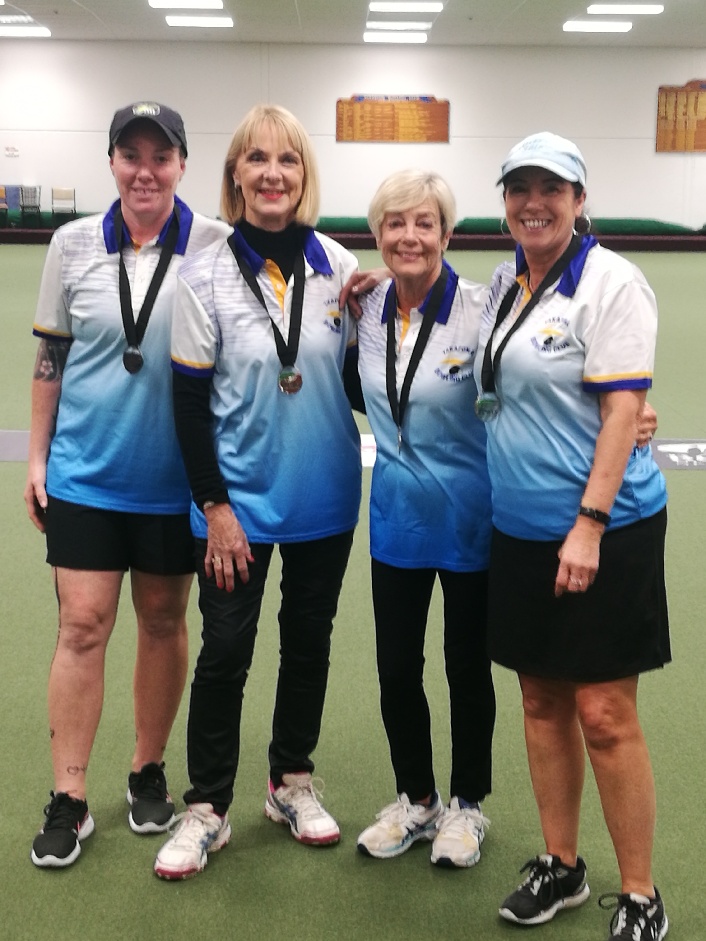 A brave effort by Takapuna's women's four to earn the North Harbour centre a national title came agonizingly close at Pukekohe at the weekend.
 In Sunday's final of the national champion of champion fours Wendy Jensen, Anne Dorreen, Trish Hardy and Skye Renes, missed out by the narrowest of margins 15-14 to Auckland's Carlton-Cornwall quartet of Karen Hema, Linda Ralph, Lisa Prideaux and Judy Wong.
 The loss continued a runner-ups pattern in national events this season for Takapuna for earlier in the season it suffered an equally slender defeat in the national inter-club sevens. And Dorreen has had three narrow misses in recent national championship, a runner-up and a third in the fours as well as being part of the sevens side,
  Overall, though, however close, it was a deserved win by Carlton-Cornwall for with the talented Prideaux especially effective at two, it controlled much of the first half of the game and it did win nine of the 15 ends.
 But it was a spirited performance by Takapuna, particularly as it was opposed to a strong, experienced line-up with Renes, a third year player at lead, and Hardy, just one year out of juniors at two.
 However, whenever the game appeared to be getting away from them, at 5-10 down after eight ends and 8-13 down after 11 ends, there were invariably rallies in which all of the Takapuna's players contributed.
 It was an especially fine effort to go to the last end with the scores tied at 14-all. Unfortunately, some short bowls stymied the Takapuna recovery and with Carlton-Cornwall taking advantage Takapuna was pressured into playing attacking shots.
 The narrow one-shot defeat in the final, however, was the only blot on what otherwise had been a superb Takapuna campaign. The Jensen-skipped four  won all four of its qualifying games and its games in post-section were highlighted by a quarter-final win over a quality North-East Valley team from Dunedin.
 North Harbour's men's representative team, Riverhead's Grant Goodwin, Gordon Smith, Duane McDonald and Lindsay Gilmore failed to quality, winning just one match after dropping the first two.  
 However, there was still a Harbour touch in the championship win. Adam Haywood, who spent some seasons in the centre with Browns Bay and won a gold star, skipped his Thames club side to a win in the final over Northland's Onerahi club.