Womens Singles and Mens Dick Bree Triples summary by Lindsay Knight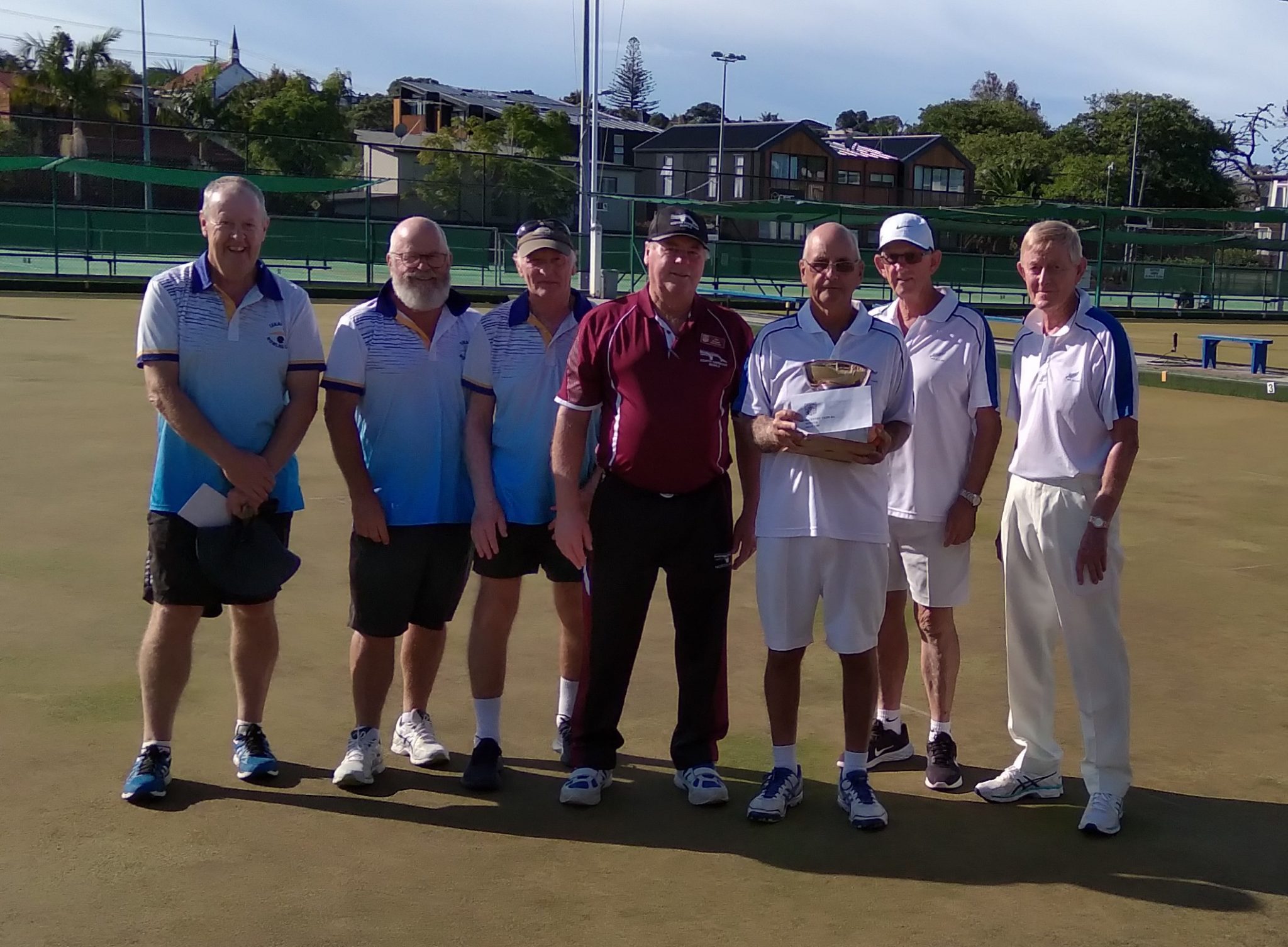 Three of the centre's most seasoned players, Browns Bay's Neil Fisher, John Walker and Colin Rogan, edged further towards legendary status by winning the Dick Bree championship triples at the weekend.
 And at the same time, on an adjacent Mairangi Bay green, North Harbour's newest superstar, Takapuna's Selina Goddard achieved a career milestone by winning the women's championship singles.
 That meant that in the comparatively short time she has been in the centre since crossing the Harbour Bridge Selina already has a gold star. For following her two wins in both singles events last year she now has five centre titles.
 But in neither case were the two titles decided at the weekend easily won.
 The Browns Bay veterans had to call on all of their experience and skill to win all three of their post-section matches. In the final they beat Takapuna's Brent Malcolm, Wynne Gray and Gordon Jenkins by just 16-14, and there were even closer calls in the quarter-final and semi-final.
 Indeed, they were on the brink of defeat in the quarter-final against another Takapuna line-up of Bob Telfer, another distinguished veteran in Murray Mathieson, and the promising Sean Mulholland, who ironically has played most of his previous bowls at Browns Bay.
 The Telfer-skipped triple, helped by some consistent draw bowls by Mulholland, looked to have won the game when it led by one with one end to play, only for Fisher with one of his last bowls to force a tie and an extra end.
 And two immaculate draw bowls by Mathieson, who in a long career has four centre titles to his name, appeared to have again sealed the result, only for Fisher to play a near miraculous shot to steal the win.
 In the semi-final against Helensville's talented Ricky Howe, Bart Robertson and Kylie Clarke Browns Bay only won by two shots, with Helensville almost forcing an extra end. That slim winning margin was then repeated in the final.
 With the win Rogan now has a staggering 36 centre titles, Walker 27 and Fisher, who has played most of his bowls at Auckland's Howick club, seven. The trio have also had considerable success at national level.
 It was, however, a fine effort for Malcolm, Gray, a one-time single figure golfer and one of the many former scribes now Takapuna members, and Jenkins to make the final for Gray and Jenkins are only two years out of juniors.
 They had two comfortable wins in the quarter-finals against a Wayne Glogoski-skipped Mairangi Bay triple and in the semis against a strong Nigel Drew-skipped Birkenhead. Helensville won its quarter-final over a Walter Howden-skipped Orewa.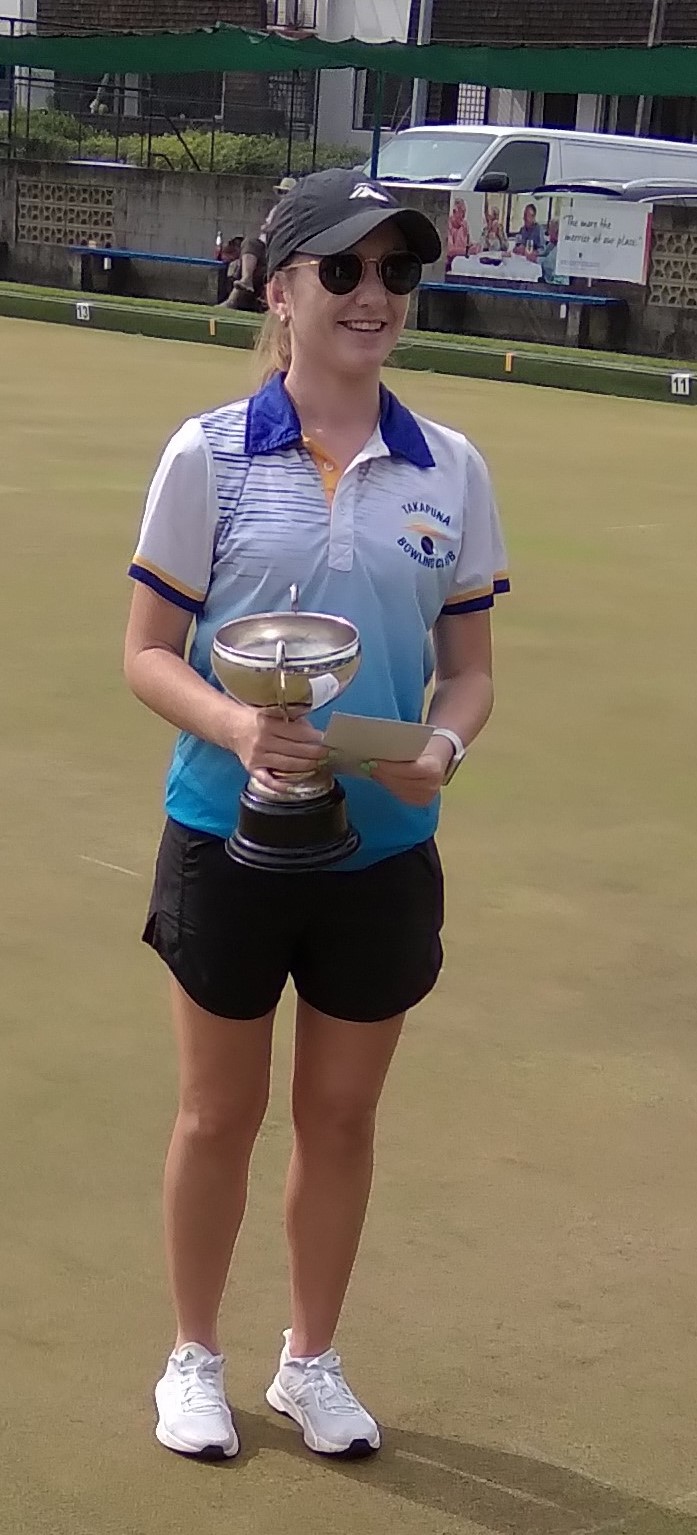 Besides Selina's win, the women's singles also featured an emergence of some of the centre's younger talent. In particular, excellent performances came from Birkenhead's Millie Nathan, still a junior, and Mairangi Bay's gritty pair of Theresa Rogers and Colleen Rice.
 Nathan lost the final 9-21 to Selina, who by then had found her rhythm, but had the distinction of beating another gifted junior Skye Renes in the quarter-final and then in the semi-final, the redoubtable Wendy Jensen.
 This was a notable victory for after Wendy had reasserted herself after trailing 12-0 to peg the score back to 13-all Millie found another gear and rallied over the final few ends to win 21-13.
 And as Selina, having come off a heavy diet of practising on slow greens preparing for the upcoming Commonwealth Games, struggled to readjust to the quicker pace of Mairangi Bay, both Colleen and Theresa pushed her hard in the quarter-finals and semi-finals. In both games Selina had to recover from what had been big deficits against resolute opponents.
 Theresa, indeed, came to the clash with Selina, having eliminated in the quarter-finals, one of North Harbour's most accomplished women's players of the past decade, Orewa's Elaine McClintock.