Results Report – Winter Cup 2023 – by Lindsay Knight
  Orewa in the men's and Mairangi Bay in the women's took the major honours when the Winter Cup competitions were decided at Browns Bay on Friday.
  But each competition was won only after thrilling, tense final matches, with the Orewa Seagulls just winning the men's from the host Browns Bay club and the Mairangi Bay Pearls in the women's denying what would have been an Orewa double with an even closer win.
 The winning Orewa team in the men's final was Wayne Harris (skip), Ray Brown, Brian Taylor and Kerry Greenhalgh, with both Harris and Greenhalgh, who were extremely effective in their roles, just fourth year players.
 Earlier, in the quarter-finals Orewa was too strong for the Grant Keats-skipped Takapuna Grange and in the semi-final had another convincing margin over the John Hindmarch-skipped Birkenhead line-up.
 The Browns Bay line-up skipped by Pete Sheehan and with Mike Garton, Lloyd Sinton and Campbell McIsaac up front had a narrow quarter-final win over Roy Parker's Beach Haven and was also tested in the semi-finals by a second Orewa team skipped by Mike Paton.
  The final fluctuated throughout in a testing wind and both teams came to the 12th and last end locked at 19-all, but Orewa held its nerve to collect a four to win 23-19.
 The women's competition was a round-robin over three games, but the dominance in the first two rounds of the strong line-ups of Mairangi Bay's Sheryl Wellington, Jan Gledhill, Colleen Rice and Theresa Rogers and of Orewa's Maureen Howden, Christeen Dalzell, Kerin Roberts and Jenny Daniel effectively meant a final.
 Again, this was a match of huge swings, with Orewa having a 14-9 lead after eight ends. But superb lead bowls by Rogers on the ninth end and a remarkable bowl from Gledhill which came onto the head from the edge of the rink meant a 14-all tie.
 Howden stalled some of the Mairangi Bay momentum with some great skip bowls under pressure, but with the time limit preventing a scheduled 12th end Mairangi Bay prevailed 18-16.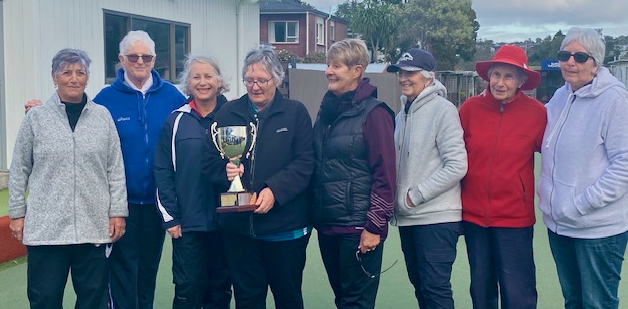 Orewa not only just missed out on a notable double, but also a fitting farewell for some of its stalwart women's players. For in the coming 2023-24 season Howden and Dalzell will be with the Manly club and Roberts adding to Mairangi Bay's considerable women's depth.
 Browns Bay finished third in the women's round-robin with a one-shot win over Warkworth.