Results for Bowls North Harbour – National Interclub 7's
Takapuna's outstanding women's bowlers did the North Harbour centre proud at the weekend by winning the 2021-22 National Inter-club 7's title at the Browns Bay club.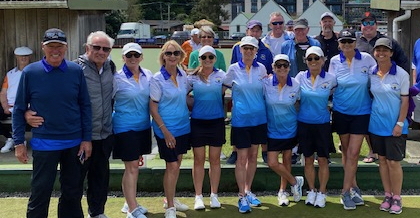 Harbour's men's representative, Birkenhead, also did its best against strong competition but finished in fourth place and just out of the medals.
Takapuna's star was Commonwealth Games dual bronze medallist Selina Goddard who won all five of her singles opponents, including in the final round against one of New Zealand's best women's players, Mandy Boyd, representing Canterbury's Elmwood Park.   A measure of the superb touch and weight control Selina showed all weekend was the fact she beat such an accomplished player 21-9.
Takapuna's four of Lisa Dickson (skip), Lauren Mills, Keiko Kurohara and Anne Dorreen were almost as consistent as Selina, winning four of their five matches and their one loss to Central Otago's Queenstown was by just one shot.
Robyne Walker and Adele Ineson had two wins, two losses and a draw, but they too were the essence of steadiness and even in their losses were competitive, ensuring Takapuna always had a healthy points differential.
Takapuna's one team loss was to Queenstown, but the South Islanders lost their chance of edging out Takapuna by losing to Wellington's Naenae in Sunday's final round.
 For Lisa, Lauren, Robyne and Anne it was their second national title for the 2021-22 season following their win in the Champion of Champions Fours in July.
Birkenhead had a tough start in the first round against Elmwood Park, which had current national singles champion Kelvin Scott and the legendary Gary Lawson in its ranks.
Tony Grantham won all three of his singles on the first day but the side fell away in the final two rounds to finished behind eventual winners Elmwood Park, second placed Manurewa Cosmopolitan and Taranaki's Paritutu.
Others in the Birkenhead side were Daymon Pierson and Evan Thomas (pairs) and the four of Nigel Drew, Jack Huriwai. Martin Short and Mark Rumble. Its best performance was a 3-0 clean sweep in the third round over Central Otago's Alexandra.
 
The tournament was the second of the major events to be staged at Browns Bay this season. Last month Browns Bay hosted the 2021-22 Inter-centre Championship, in the early New Year it is expected to be the headquarters for the National Singles and Pairs and in February the Masters.
The club is to be congratulated and thanked for its efficient staging of these events and for the quality of its greens.