New Coaching Trailer for Bowls North Harbour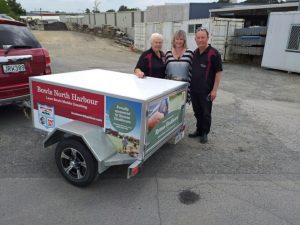 After twelve months in the making and having the support of Ryman Healthcare as sponsors, Bowls North Harbour have taken delivery of a brand new trailer designed specifically for the carrying of bowls and equipment to set up coaching sessions at clubs, retirement villages, and schools. In fact, anywhere there is a group of people who want to try out the sport and then improve their skill level.
The trailer was the brain child of the last Board, particularly Graham Dorreen who had the vision to put the project together and was instrumental in the design of the trailer
Bowls North Harbour have 20 sets of bowls purchased from Henselite and funded by a grant application initiated by the 2018-19 Board. In time, it is expected further equipment relative to the coaching side will be added to the trailer making it a complete and "ready to go" coaching unit on wheels.
Thank you to Ryman healthcare for all your support in bringing this project together.