Selina Goddard wins the Auckland Premier Open Womens Singles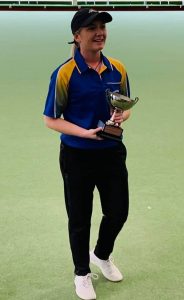 Selina Goddard, now with North Harbour's Takapuna club, gained one of the most important  victories in her young career by taking out the Auckland premier women's open singles at the New Lynn club at the weekend.
 The title was not the only factor in her cause for celebration. Equally significant were the scalps she secured in her success.
 In the quarter-finals she reversed a drubbing she had received earlier in the year from another Black Jack in Nelson's Kirsten Edwards, then in the semi-finals she beat the highly promising Paris Baker and in the final another nationally ranked player in Deb White, from Waikato's Hinuera club.
 Though the Harbour's top women's player, Black Jack Wendy Jensen, missed out on the play-offs others from the centre performed well in what was a strong competitive field.
 Takapuna's Connie Mathieson and Adele Inesen and Christeen Dalzell, from Orewa, were others to make the quarter-finals, while Robyne Walker, also from Takapuna, only missed out because she was beaten 21-20 in the opening section match by none other than Ineson.
Lindsay Knight