RYMAN HEALTHCARE MASTERS PAIRS
The first event on the Ryman Heathcare Masters 2019 program was the Pairs,  played today at SunnyBrae Bowling Club the Home of North Harbour Masters.
22 Teams enjoyed the good weather and the great hospitality of the Sunnybrae Bowling Club, Thank you Sunnybrae your volunteers are awesome.
Players had to be over 70 years old and there were a prize for the best performed team with all players over the age of 80 this was won by Phyl Humphries & Graham Ward.
May Evans also picked up a bottle of wine for being the Oldest player at 96 years old she won by quite a few years. Her Team also came away with 2 wins out of the four games.
Main Prizes; 1st Chris Taylor & Trevor Forward: 2nd Ron Murdock & Murray Vallance: 3rd Bruce Cochrane & Kevin George.
The other Masters events for 2019 are Triples are being played on 18th March and the Masters Fours on the 25th March. These are Open Any Combination teams and don't have to be long to the same Club or Centre.
Contact the Bowls North Harbour Office to enter.
A Big thank you to Mark Cooper from Ryman Heathcare for his attendance during the event and presenting the Prizes.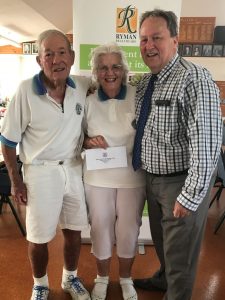 .