Rotorua speights classic fours – some Harbour winners
Royal Oak's Garry Cotter and a composite team made up of Bart Robertson, Dave Eades, Garry Cotter and Steve Liddington have taken out the silverware at the 2020 Arawa Bowling Club's Speight's Optional Classic Fours BowlsNz Summer of bowls event, winning their respective section with a brilliant run of form on day three.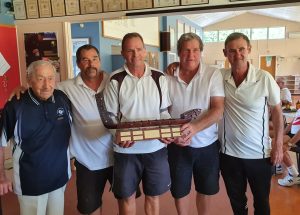 Long serving 99 year old Arawa club member and sponsor far left in photo presenting the trophy. 
Held in the Rotorua province, the Arawa flagship event attracted 20 line-ups from both within and outside of the area – with all teams playing fours and pairs throughout the three-day event.
Recognised as part of the Bowls New Zealand Summer of Bowls programme, the event, which is now in its 45th year, comprised twelve rounds of section play, before post-section on day three.
Congratulations to Dave Eades,Bart Robertson,Garry Cotter,Steve Liddington  on taking out this prestigious tournament