Obituary – Malcolm Henderson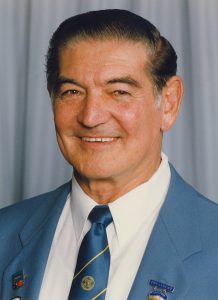 Bowls North Harbour lost a great stalwart and dedicated servant to both the Centre and his Takapuna club with the death on July 13 of Malcolm Henderson.  Malcolm, who was 88, had been in ill health for some years.
Henderson was not only an excellent player but a significant contributor to bowls in general as an administrator, a coach and an umpire.
As an umpire he officiated at the world bowls championships at Henderson in 1988 and the Commonwealth Games at Pakuranga in 1990. He gained his international umpire's certificate in 2003 and was president of Bowls North Harbour's umpire's association in 2005-07.
A natural skip, Henderson as a third-year player spearheaded a team of juniors to win Takapuna's open men's triples championship in the 1985-86 season. That was the first of eight titles he won at the club spread over all four disciplines.
Though often coming close he never won a centre title.  But he was a constant supporter of neighbouring clubs' tournaments and won a  number of prestigious extended events. He was also a regular member of Takapuna's premier inter-club teams.
He had a stellar year in 1998. He was club president, won Bowls New Zealand coaching accreditation, won Takapuna's singles title and led the planning and funding team which installed the club's first all-weather green. He was made a life member in 2003.
Fellow Takapuna life member Murray Mathieson paid tribute to Henderson especially to his coaching efforts, both for the club and centre. "Many of today's bowlers will fondly remember the patient and encouraging support he provided them as they started out as juniors," he said.
A big man, as befitted a one-time useful forward at club rugby level, Henderson was noted, too, for the firmness of his hand-shake. Both his club and the North Harbour centre will miss him.
A service to celebrate Malcolm's life will be held at Mairangi Bay Presbyterian Church, 10 Penzance Road, Mairangi Bay on Friday 20 July 2018 at 12 noon.