National Interclub Men's Division 2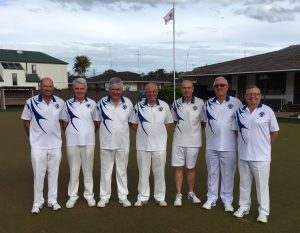 With two Mairangi Bay teams in the last 8 this morning, Mairangi Bay2 have won 2-1 over Browns Bay in the final of Division 2 Interclub.
In a closely contested final round, the Singles was a tight game with Mairangi Bay out to 17-9, the Browns Bay fought back to 18-19, where Mairangi picked up 3 singles on the last three ends to win 21-18. The pairs saw Mairangi Bay out to 11-4 after 9 ends, then Browns Bay came back to 13-14 after 15 ends. With Mairangi Bay picking up a 4 on the penultimate end and finishing up 19-15. The fours had Browns Bay out to a flyer 10-2 after 5 ends, then Mairangi Bay scored on 4 consecutive ends to be 12-11 up after 9 ends. Browns Bay then came back and finished the game strong winning 17-13.
Congratulations to Mairangi Bay who will be representing BNH in the Regional Finals.