Jean Ashby – awarded Life Membership of Bowls North Harbour
At the AGM Jean Ashby was unanimously voted in as a life member of Bowls North Harbour.  
Some background to her nomination.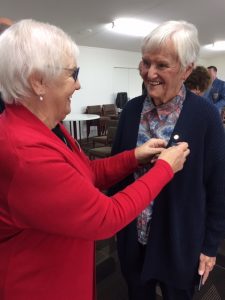 Jean Ashby has achieved legendary status within Bowls North Harbour and Bowls New Zealand, not so much for her playing ability, but for her notable contribution to the Centre and nationally as an outstanding umpire and for her expert knowledge of the game's playing laws.
Jean started bowling in 1967 and quickly became a competent player winning her share of club titles, but in those years women's bowls was played mainly mid-week and the need to resume full-time secretarial work reduced her playing opportunities.
Jean switched to umpiring receiving her badge in 1976, and soon became one of the country's best. She has been involved in several national championships for both men and women and being internationally qualified has received a number of international assignments as well.
Jean was a leading light in the formation of the Waitemata Centre in 1984, before the North Harbour name was popularized and became gender-integrated into what is known now as Bowls North Harbour in 1996.
In the 1988 World Women's Championship at Henderson Jean marked the singles final and two year's later repeated the official duty at the 1990 Auckland Commonwealth Games where she marked the Women's gold medal final.
Jean served the game as an exceptional administrator. She was president of the national Women's Association in 1992/93, and when it was disbanded she became an independent board member of Bowls New Zealand. She was fully supportive of the Men's and Women's games merging and believes it has been one of the best things to have happened in bowls.
in 2002 she was accorded life membership of Bowls New Zealand. Previously she had been elected a life member of Mairangi Bay Women's Bowling Club, which was transferred over to the Mairangi Bay Bowling Club on amalgamation, and in 2004 became an Officer of the New Zealand Order of Merit for her services to bowls.
In 2019 the Centre presented Jean with a Lifetime Achievement Award in recognition of her services to bowls and in particular to this Centre.