CoC Triples Results
Men's Champ of Champ Triples.  
   Murray Mathieson, who has had a 40-year as a leading bowler in the centre, moved to within one of gaining a coveted gold star when Takapuna won the North Harbour champion of champion triples title at Orewa at the weekend.
 Mathieson was at two in adding to his previous three centre titles in a combination which had Norm Scott-Morrison at skip and Trevor Forward at lead.
 Adapting slightly better in the difficult, windy conditions, Takapuna won a tense final 17-15 against a strong Browns Bay trio of skip Adam Haywood, former Black Jack Tony Grantham (two) and Scott Evans (lead).
 Takapuna, with Forward in great form as lead, jumped to a 6-0 lead, only to drop a three and five to face a 6-8 deficit. A recovery, however, saw Takapuna come to the last end ahead 16-15, with Mathieson securing what proved to be the crucial shot.
 But it was still a game Browns Bay, despite winning only seven of the 18 ends, could have won, with Haywood with his last bowl just failing to remove the shot bowl which had he done so would have meant Browns Bay's three seconds would have been enough for victory.
 Forward now has six centre titles while Scott-Morrison, a former Scotland Commonwealth Games middle distance runner, added to the fours championship he won in 2015.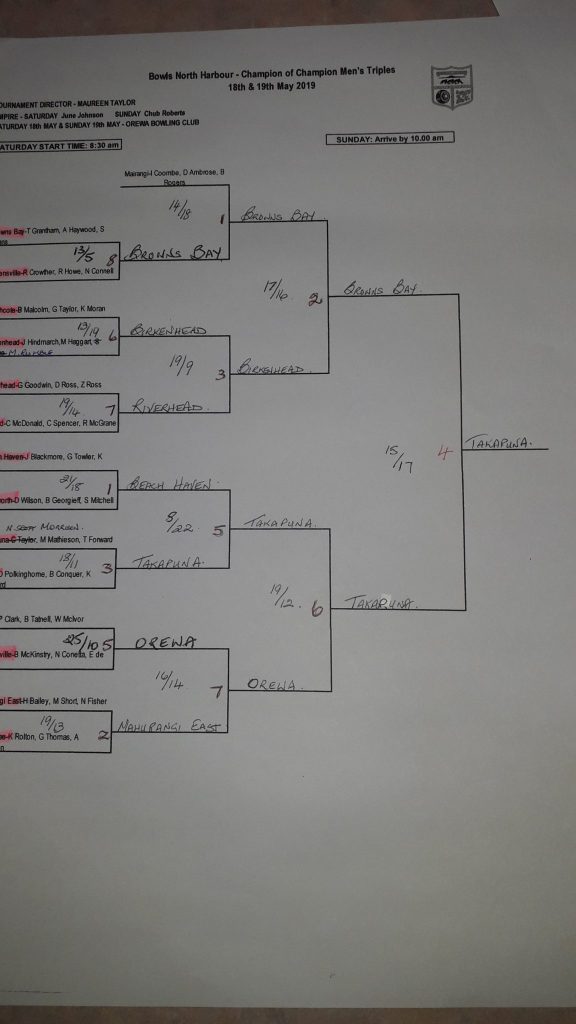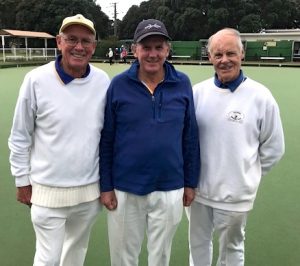 Women's Champ of Champ Triples
There was not the same good fortune for Mathieson's wife, Connie, and Takapuna in the women's champion of champion triples final.
 After playing superbly to make the final on Saturday the Takapuna line-up of Trish Croot (skip), Mathieson (two) and Trish Hardy (lead) was never at ease and was well beaten by Orewa's Lisa Parlane, Elaine McClintock and Jan Harrison 18-9.
 It was a deserved compensation for Parlane and McClintock after their surprise loss in the previous week's champion of champion pairs final.