Champ of Champ Triples – Lindsay Knight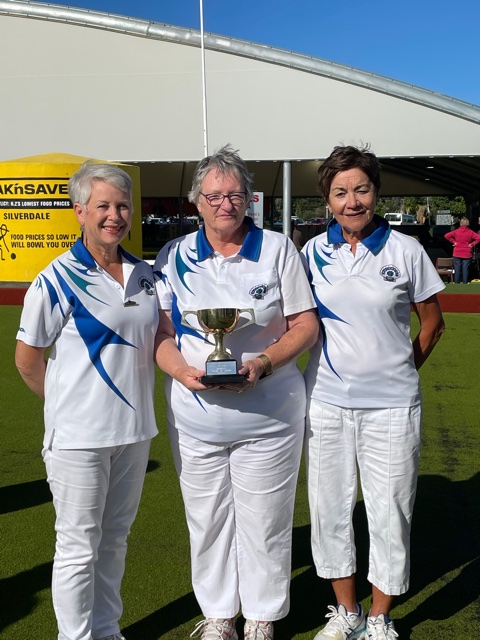 In skipping her Mairangi Bay team-mates Gaye Horne and Theresa Rogers to victory in the women's champion of champion triples title, also held at Orewa on Sunday, Sheryl Wellington also came within one of her gold star.
 For Wellington and Rogers the win capped an especially memorable season as it was their third title together this season, following the previous weekend's successful defence of the champion of champions pairs and their win in the championship pairs.
 Rogers, still eligible to play in one-to-eight year events, now has eight centre titles. She has emerged as an immaculate draw bowler at lead and in the final she was in imposing form as Mairangi Bay whipped the Orewa line-of Elaine McClintock, Christeen Dalzell and Kerin Roberts 23-3.
 That was an unbelievably huge margin, given that all of the Orewa players are top players and multiple centre champions and, indeed, won the championship triples title earlier this season.
 But the threat the in-form Mairangi trio posed was shown in the second round when it had a good win over Takapuna's Robyne Walker, Adele Ineson and Connie Mahtieson. Another solid combination to exit early was last season's winners, Birkenhead's Ruth Lynch, Millie Nathan and Amy Little.
 For Horne, still only a junior, it was her first centre title but as a former Commonwealth Games medallist she is obviously a talented athlete and already has shown herself to be an impressive shot-maker.
 Birkenhead's Steve Yates, Jimmy Heath and Jack Huriwai rallied strongly over the latter ends to beat Helensville's Ricky Howe, Mark Preddy and Kyle Clarke 21-13 in the men's champion of champions triples final.
  This was Yates' first Harbour title, but the third for each of Heath and Huriwai.
  In the semi-finals Birkenhead had a comfortable win over Milford, as did Helensville over Mahurangi East.