Bowls3Five wonder weekend for Birkenhead by Lindsay Knight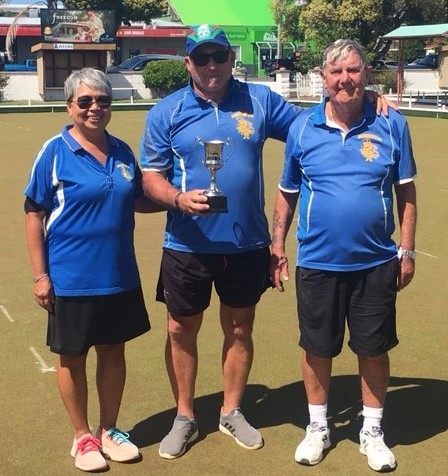 The Birkenhead club-rooms will almost certainly ring for years to come as the amazing exploit of one of the club's most prominent and most popular players, Sandy Cleghorn, in winning Bowls North Harbour's 3-5 championship becomes folklore.
 And if there is ever any brief silence on the subject then the irrepressible Sandy will be always on hand to ensure it is forever heard first and foremost in any conversation.
 Not that anyone should complain. For Cleghorn, who has never forgotten after many years living in Auckland's he's a West Coaster, in winning the championship final at Browns Bay at the weekend skipped his inexperienced line-up of Robbie Henson and Maxe Janssen to a truly remarkable triumph.
 There are many factors worth celebrating. For one, Maxe Janssen at lead is just a second-year player. For another, Robbie Henson, once a leading league player, is only a seventh-year bowler, despite already having a centre title to his name, the championship fours in 2016-17.
  But perhaps of more relevance is that but for some miracle shots by Sandy the title would never have been Birkenhead's. This was not only in the final against an excellent Takapuna team of skip Garry Banks, two Laurie Kean and lead Irene Costello, but also in the semi-final against another Takapuna team of Robyne Walker, Bevan Smith and Jason Parker.
  Had Sandy not intervened late in each game with some remarkable saving shots this would have been undoubtedly an all-Takapuna final.
 In the semi-final after the two sets had been squared Robyne looked to have wrapped up the match in the tie-breaker with two superb skip shots, only for Sandy to run into the head with his weighted bowl and take the win.
 The win in the final was even more astonishing and an illustration of just how unpredictable, even cruel, bowls can be, especially in the condensed format in which three-five is played.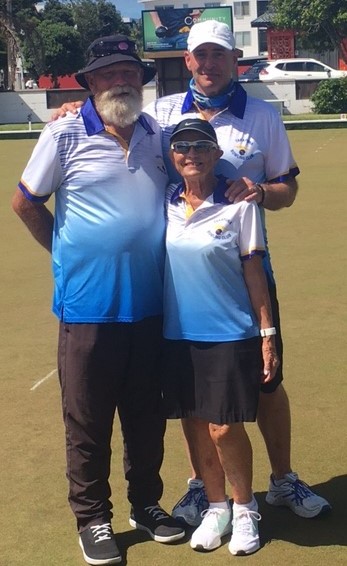 For four-fifths of the match Banks, Kean, a recent recruit to Takapuna from Orewa, and fourth-year player Costello had been by far the superior team. They comfortably won the first set 9-2 and appeared to be heading for the title when they were just as dominant in the second set's first three ends with a 5-0 lead.
 But on the fourth end both teams took their power play when winning shots are doubled and it was this that turned the game. Irene, as she had been all match and for much of the tournament, was immediately straight onto the jack and that meant Takapuna was holding the game even with an end left.
 However, cometh the hour and cometh that man Sandy. With his first bowl he all but removed Irene's shot bowl and with his second he went even better, pushing out not only Irene's shot bowl but a close second by Laurie to give himself three shots. So instead of being 0-7 down and out of the contest Birkenhead suddenly had the lead at 6- 5. They then foiled Takapuna's attempt to draw the set on the fifth end which would have meant a win, and on the extra end again through Sandy just sneaked inside what had been Takapuna's shot bowl.
 All of this was achieved with Sandy's rather distinctive style when on delivery most of his bowls were bounced. It was hardly out of any coaching manual and indicated that Sandy in his long career had never had any remedial sessions with Birkenhead's master coach, Keith Burgess. But his winning virtue was that whatever his unorthodoxy he was never short in attacking the head.
 So it will be Cleghorn, Henson and Janssen who will represent North Harbour in the national playoffs at Wellington's Naenae club on May 6-7. If the event is televised Sandy is sure to be a star attraction.
 Of the 54 teams in the event 30 were from either Takapuna or Birkenhead so it was perhaps not surprising that all the semi-finalists came from those clubs. Besides the Cleghorn-Walker showdown Banks and his team beat Marty Short, Evan Thomas and Linda Phillips decisively in the other and continued in that vein for much of the final.
 It was an especially fine effort overall by Birkenhead, though, for of its 10 teams five made it through to post-section. Because of the cut-throat nature of the format and the impact of even more luck that is an essential aspect of conventional bowls there were many notable casualties in section play. This number included two of those who won last season, Wendy Jensen and Simon Poppleton.
 Inevitably, there may been divided opinion over whether some clubs should have an excessive number of entries. But a counter view might be that this is simply abiding by a Bowls New Zealand to have as many players as possible involved in a concept which is proving so popular, especially in Australia.
 The final also offered evidence that three-five isn't just for the athletic young. Three of the players, Cleghorn himself, Banks and Irene are all closer to being 80 than 70.