A tribute to John McCormack by Lindsay Knight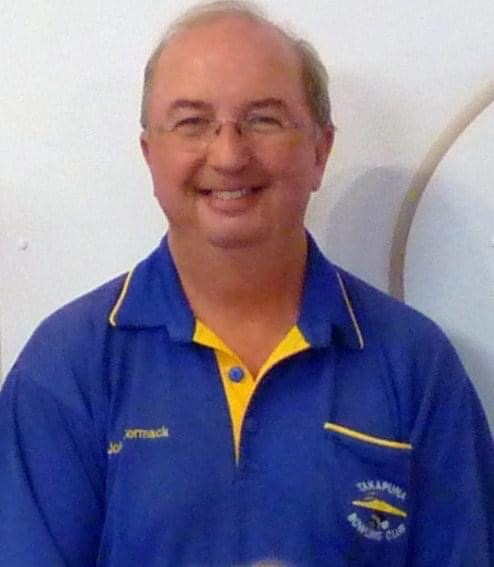 John McCormack, who has lost a brave, brief battle with pancreatic cancer, was one of the many gems who have emerged from the northern English city of Liverpool.
 Not that John, a quietly spoken, modest man, would claim to be ranked alongside the Beatles, Gerry and the Pacemakers, Cilla Black or giant football clubs like Liverpool and his beloved Everton.
 But for Takapuna club members and we are sure those from other clubs who encountered him at centre level he was every bit as special as any of those Merseyside icons.
 John, who was 74, came to New Zealand after first migrating to Australia where he was employed in the corporate world as a sales executive. He joined the Takapuna club in 2007-08, in the same season as others who would also serve the club with distinction, Marty Martinengo, Malcolm Ratcliffe and David Lewis.
 With Marty in particular he forged a close friendship, and on the green a formidable partnership which brought both considerable successes. Paying tribute to  John, Marty, twice a president of the club, commented: "I enjoyed playing against him and I enjoyed playing with him."
 John won six open club championship and all but one, the singles title he won in the 2011-12 season, were with Marty. These were the championship fours in 2011-12 and 2012-13 in which they were in teams skipped by Chris Taylor and which also included Walter Howden, and three times in the triples.
 The triples were with Marty and Walter in 2014-15 and with Marty and Leighton Bristol in 2013-14 and 2015-16.
  John had the rare distinction of being both open and one-to-five-year singles champion in 2011-12 and won with Marty on numerous occasions the one-to-five year pairs and fours championships. And when he qualified by turning 70 he and Marty won the veteran pairs in 2017-18.
 A Harbour title eluded him, though he was always competitive in centre events, often appearing in the post-section rounds and representing the club many times in the premier grades in both pennants and sevens.
 A methodical, analytical player with all the shots, including a thundering drive when it was required, he was a precise reader of heads. Two of the club's most advanced judges of bowling technique, Graham Dorreen and Murray Mathieson, both spoke admiringly of this particular strength of John.
 Though often clashing with the time he needed to devote to his business interests, more latterly a Devonport gift shop, John served the boards of both Takapuna and Bowls North Harbour and had selection roles in both. With his patience and ability to assess technique he showed signs of becoming an excellent coach. In the relatively short time he spent with them at centre level he won the respect and admiration of all of Harbour's best women players.
 His last appearance at the club was with one of them, Wendy Jensen, in the final of the inaugural knockout two-four-two pairs. It was a poignant occasion as many had just become aware of his illness.
 He performed bravely and with much of his old skill, but well as he and Wendy both played, in a tight match it wasn't quite enough to edge out two in-form players in Jerry and Jacqui Belcher.  
  The club, and we are sure Bowls North Harbour joins us, offers Eileen and the McCormack family heartfelt condolences and thanks them for allowing us to share a part of John's life. Rest in peace, John.