BNH Women's 2019 Rep Team.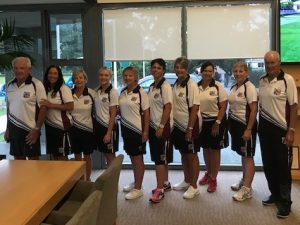 Despite a gallant effort by the centre's women's representative team North Harbour had mixed fortunes at the national inter-centre championships when they were decided at Auckland's Howick club on the weekend.
 The Harbour ladies finished a creditable third equal, missing out on a place in the final to a strong Nelson team which included such nationally ranked players as Amy McIlroy and Kirsten Edwards.
  The men's team, however, didn't have quite the same success, failing to emerge from section play. This, however, was a reflection of some strong competition.
 This was shown by the high standard in the men's final between Canterbury and Nelson. Even though the legendary Gary Lawson was thrashed in his pairs final match, Canterbury won the title through its fours combination and in the singles when in a thriller Andrew Kelly beat world champion Shannon McIlroy 25-24.
 The women's final was equally as tense with Auckland denying Nelson a rare double with just as narrow a win.
 That showed just how impressive was the performance of the Harbour women in getting so close. Harbour made the post-section by finishing second in what was a tough section which also included eventual winner, Auckland, Southland and Bay of Plenty. The ladies then had a comfortable quarter-final win over Thames Valley.
 The Harbour team of Selina Goddard (singles), Wendy Jensen and Anne Dorreen (pairs) and the four skipped by Lisa Parlane with the experienced Elaine McClintock at lead performed mightily.
 Harbour's women's chief coach Graham Dorreen was full of praise for the effort. It had been especially meritorious considering last season Harbour did not survive section play.
 "It was a great result for us based on sound preparation, total buy-in of all the players and real drive and commitment," he said.
 And there was inevitable reflection on the might- have- beens. Auckland was a deserving winner but a just week previously Harbour had beaten it in the zonal quadrangular tournament. Such are the ups and downs of bowls.