BNH Champ of Champ & Junior 1 – 5 Singles commentary – 28 April 2019
 
The tried and true, in the shape of former Black Jack Tony Grantham, was emphasised when the centre champion of champion singles events were held at the weekend.
 Grantham, from the Browns Bay club, showed he is still a master of draw bowls, in winning the men's title and by achieving his 19th centre success put himself within reach of another bar to his gold star.
 But some of the promising up-and-comers also featured at the weekend. Daryl Read, playing in the Belmont Park colours, was runner-up in the final, beaten narrowly by Grantham 21-18.
 And Jacqueline Broderson won the women's final to confirm further the acquisition she has been to North Harbour since moving across the bridge.
 In just her first season with the powerful Orewa club she won her second title by beating Brown Bay's Margaret Oates in the final 21-14. This followed some equally good form in the centre championship singles earlier in the season. To win at the weekend Broderson showed her mettle with a superb comeback, trailing after 11 ends 6-14, only to then score 15 unanswered points.
 In the men's semi-finals Grantham beat Takapuna's experienced Graham Skellern 21-13 and Read beat Orewa's Walter Howden by the same margin.
 Broderson won her semi-final from Mahurangi East's
Noeline Holdsworth and Oates beat an evergreen gold star holder from Sunnybrae, Jan Jones.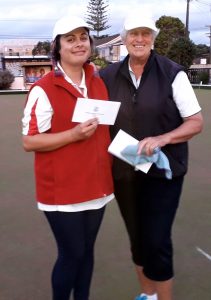 Also held at the weekend, with all finals at Browns Bay, were the centre one-to-five year-singles championships, a feature of which was the success of several first year players.
 Mairangi Bay's Gaye Horne made the women's final and Takapuna's Irene Costello the semi-finals and Hobsonville's Ian Coleman was in the men's semi-finals.
 Her more seasoned club-mate Colleen Rice beat Horne in the final 21-15, with Rice just prevailing in her semi-final, 21-20 against Manly's Judy Smith.
 Coleman lost 21-8 in his semi-final against Brown's Bay's Sean Mulholland, who in his last season as a junior continued some fine form at the weekend with a comfortable 21-7 win in the final over Mairangi Bay's well performed Phil Chisholm.