Womens Interclub 7s held over the weekend – Lindsay Knight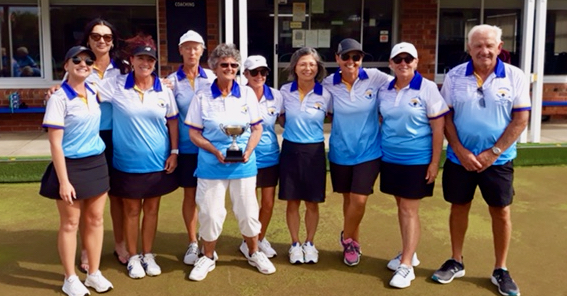 Though without the comfort of last season, Takapuna's women's bowlers continued to show their strength and depth by again winning the North Harbour centre's inter-club sevens at Mairangi Bay at the weekend.
 Takapuna won but only on a differential countback from Orewa after the two clubs finished the top four round-robin final on Sunday locked on 19 points. This was just four ahead of a worthy effort from third placed Mairangi Bay.
 For its win Takapuna owed a big debt to its Black Jack international Selina Goddard, who won all six of her singles and most by such margins they contributed heavily to a superior differential.  Yet even she was put under pressure by spirited opposition and in Saturday's qualifying rounds had to come from behind to beat Warkworth's vastly experienced Cynthia Roper 21-20.
 Takapuna's other players were Lisa Dickson and Anne Dorreen (pairs), and Wendy Jensen (skip), Lauren Mills, Robyne Walker, Adele Ineson, with Japan international Keiko Kurohara reserve.
 Takapuna will now go to Wellington for the national final in April, hoping to go one better than its second placing in 2021.
 Last year the pair of Dickson and Dorreen was one of the major factors in Takapuna's success. But at the weekend they, too, were stretched more than they would have liked, dropping their first two matches before recovering on the final day.
One of their losses was to Manly's Elaine Ferguson and Kathy Stevens 19-17 and then Ferguson and Stevens added another notable scalp by downing Orewa's solid pair of Elizabeth Ring, unbelievably aged 84, and Kerin Roberts.
Other members of the Orewa team which ran Takapuna so close were multiple centre champion Elaine McClintock (singles) and the four of Christeen Dalzell, Maureen Howden, Mary Wright, Jan Harrison and reserve Val Taylor.
Mairangi Bay, with good performers like Colleen Rice, Sheryl Wellington and Jan Gledhill spearheading its effort, plus a promising pair in Gay Horne and Joy Wilkinson, was the side in contention until the final stages. Browns Bay finished fourth.
The high standard of competition was reflected in the fact that what was a strong team on paper in Birkenhead, with players of the calibre of the great Ruth Lynch and Trish Croot and Connie Mathieson, failed to make the top four.
Graham Dorreen wore two hats in the competition, as manager-coach of Takapuna and as the Harbour representative coach. While his club side created some tension, he was more than happy with the outcome from a centre viewpoint and that Takapuna only won only after being tested in a competitive environment.  "A big plus to all the players from all the clubs who mix so well and enjoy each other's company," he said. "We are building a strong base in women's bowls and any club on its day can beat any other."