Tribute to Carole Fredrick by Lindsay Knight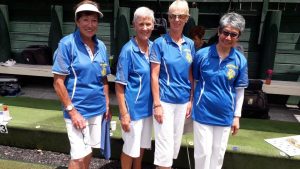 One of North Harbour's most illustrious women's bowlers, Carole Fredrick, loved and respected throughout the centre, died on Tuesday, January 21, aged 80.    
 Orginally from Wellington, where she started bowling with her late husband, Noel, also a competent player and solid administrator, at the Titahi Bay club in 1973.
 In her teenage years she had played representative cricket and netball and her sporting pedigree included a father, Eddie Barton, who played soccer for New Zealand, and an older brother, Paul Barton, who was a lovely test batsman for New Zealand cricket sides in the 1960s.
 Little wonder, with such a sporting pedigree, that she soon established herself as an accomplished bowler, who went on to win in all 27 centre titles, two national titles and two Taranaki fours.
 In North Harbour she played firstly for the Stanley club, then Sunnybrae, Glenfield and finally for several seasons with Birkenhead.
 Her first national title came in 1999 in the fours when she was in a Harbour composite skipped by the great Marlene Castle and which also included a close friend, and another Harbour legend, Mary Gulbrandsen.
 But her most satisfying feat came with her second fours national success with her closest bowling mate, Ruth Lynch, and Gayle Melrose and Lisa Helming.
 This was at the Carlton-Cornwall club in 2012 and it was precious for Carole in that it was achieved, in an age dominated by "dream team" composites, by an entirely club combination.
 Lynch, another with many Harbour centre titles, many of them won with Carole, recalls her bowling buddy with unstinting affection.
 "I've been bowling for 28 years and 26 of them, either at Sunnybrae, Glenfield or Birkenhead, were with Carole," she says. "We had some great wins but what I cherish most is that we played for fun and what I remember most is the laughs we had together."
 So from Bowls North Harbour and all its clubs, vale Carole Fredrick. May you rest in peace.