Takapuna celebrates Bob Porter's 100 birthday today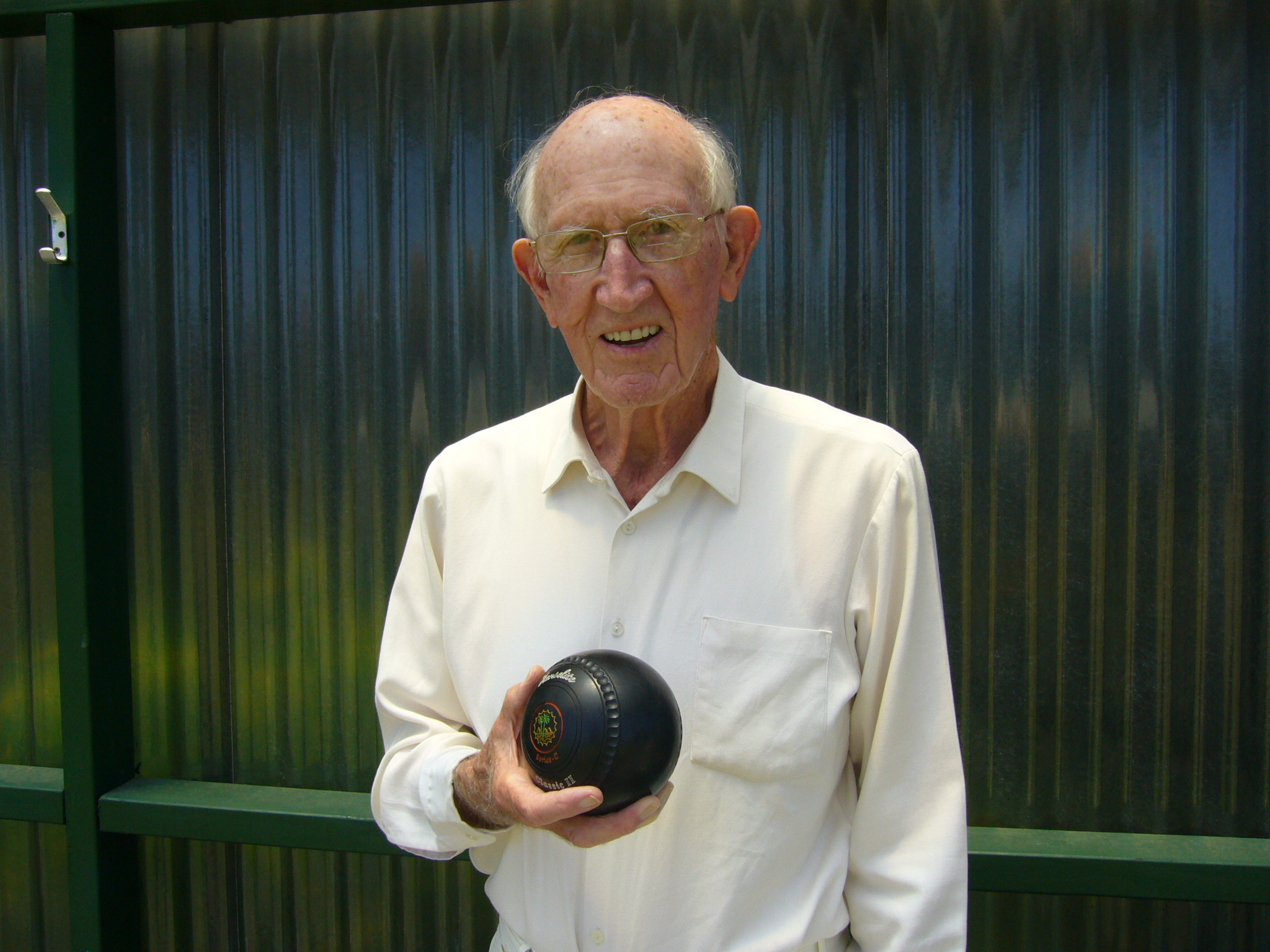 The Takapuna Bowling Club is celebrating a major milestone in the life of one of its most revered members, Bob Porter.
 A member of the club since the 1983-1984 season, Bob reached the age of 100 on March 1, an occasion that is being suitably recognised, along with his family, by those club members who were closely involved with him when he was in his bowling and administrative prime.
 Bob was president of the club in the 1989-90 season and again in 2000-01. In those years the role of president was much more hands-on than today for he acted as committee chairman and was more involved with the club's day to day running. In 2000 he was elected a life member.
 Takapuna benefitted in many other ways from his expertise as a professional mechanical engineer. He devoted himself to maintaining the gardens which continue to enhance the ambience near the club-house and in 1993 he spearheaded the reconstruction of the then A green.
 He was chiefly responsible for installing the sand base which for many years made the green one of the best not only in the North Harbour but in the greater Auckland region. Bob oversaw the project and as a self-described "Clerk of Works" acted as liaison with the Turf Culture Institute.
   He took up bowls aged 63 after retiring as executive director of a large engineering company. His engineering skills were complemented by his naturally pleasant touch in people management.
 Fellow life member Murray Mathieson has designed a handsome card on which club members have paid Bob tribute. Murray was one who valued the wise counsel he often received from Bob, especially when he was board chairman. He described Bob's contribution to the club as "enormous" adding that he was "an elder statesman and always a thorough gentleman."
 Among those who joined Takapuna in the same season as Bob was Bert Sutcliffe. a celebrated cricketer. That struck a chord with Bob for while yachting, which led to many Hauraki Gulf holidays in a launch part owned with another family, was his main sporting passion he had an Englishman's affinity for cricket. And it was at the behest of a Tennyson Avenue neighbour, another former test cricketer Colin Snedden, that he joined the club. The deeds, too, of his grandsons, Andy and Matthew, as premier grade cricketers in recent years with the North Shore club and David in New Plymouth have given him considerable satisfaction.
 Originally from Bristol in south-west England, and one of a family of eight children, Bob first came to New Zealand on a sales trip as a young man and, according to daughter Wendy Strain, has long since seen himself as very much a Kiwi. On that trip in 1950 he had met Cherry, a staff member of BJ Ball, one of his client firms. In 1954, after some years of correspondence and Cherry's own OE trip to England in the Coronation year of 1953, they were married at Holy Trinity Church, Devonport. They lived and raised their family, John (born 1956) and Wendy (1959), in Takapuna until in 1990 they moved to Milford.
  The lovely Cherry is also remembered fondly by older club members.
 She, too, was an enthusiastic, capable bowler and joined Bob at the Takapuna club when the men's and women's clubs merged in 2004. She was among several women who with their charm and graciousness ensured the merger was seamless and with no gender-hassles.
 Bob would be the first to acknowledge his on-green feats were modest but he was a handy player, a steady lead and one who always showed sportsmanship and etiquette.
 He did win one "junior" title, the pairs with Warwick Wills in the 1986-87 season and one senior championship, the triples with Wills and his friend and later fellow life member Ray Scott in the 1995-96 season.
  Another of Bob's great assets was an open, flexible mind always prepared to meet change. Unlike many of his generation or those even younger he embraced computer technology rather than be daunted by it. Soon after his son, John, obtained in 1985 a personal computer Bob bought his own. He quickly mastered the electronic age and for many years was a member and tutor of "Senior Net." Even today he has his own cell-phone and i-pad.   
  Bob and Cherry were regular and popular participants at roll-ups up until the early 2010s and even after they had stopped active play Bob remained close to the club. It became a Wednesday ritual for Bob and another life member, the late John Angus, to visit the club and have morning tea with another of Bob's protégés, then green-keeper Des Cotter. He forged a bond with the club which will endure.