Ryman Masters Open Any Combination Pairs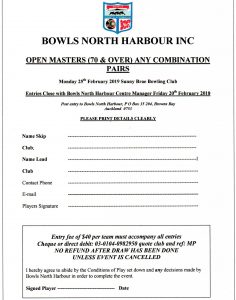 Bowls North Harbour
Men & Women's "Masters" A/C Open Pairs
Open to any affiliated Club Teams.
Special Conditions of Play
Monday 25th February 2019 Sunnybrae Bowling Club 9am Start.
Club Teams played in Team Colours or Whites;
The Field is a random drawn.
4 x games of 10 ends, no time limit, 3 game points a win, if a draw after 10 ends an extra end will be played to find a winner.
Tea break, between the first and second game, Lunch between Second and third game, afternoon tea break between third and fourth game.
Incorrect delivered Jack opposing skip places the Jack. Kill is a Kill
The event is played by 70 year old Bowlers and over. If there are any teams playing with both members over 80 year and over, the team with the most points will also receive a Prize.
Age is calculated at the 25th February 2019. Entry Fee $40.00 per team.
PRIZES;
Winner $300.00, Second $100.00, Third $60.00                         
First Team over 80 Team $100.00  Plus more $$ Prizes subject to entries.
Winners Medals presented at the Centre awards event.