Results – Centre Triples – 11th & 12th November 2023
Helensville's Carlton Barnett, Ricky Howe and Bart Robertson each had an individual milestone to celebrate in winning the North Harbour Dick Bree men's triple championship at Browns Bay at the weekend.
And in The Grove Orewa women's championships Manly showed again how much of a threat it could be this season to the usual powerhouses of the women's game in recent years, the likes of Takapuna, Orewa and Mairangi Bay.
In beating a brave Browns Bay 21-11 in the men's final Barnett won his first Harbour title, adding to the three he has won previously in Northland and Counties, Howe won his fifth Harbour title to claim his gold star and Robertson, in securing his 19th title, gave himself a complete set by winning the triples for the first time.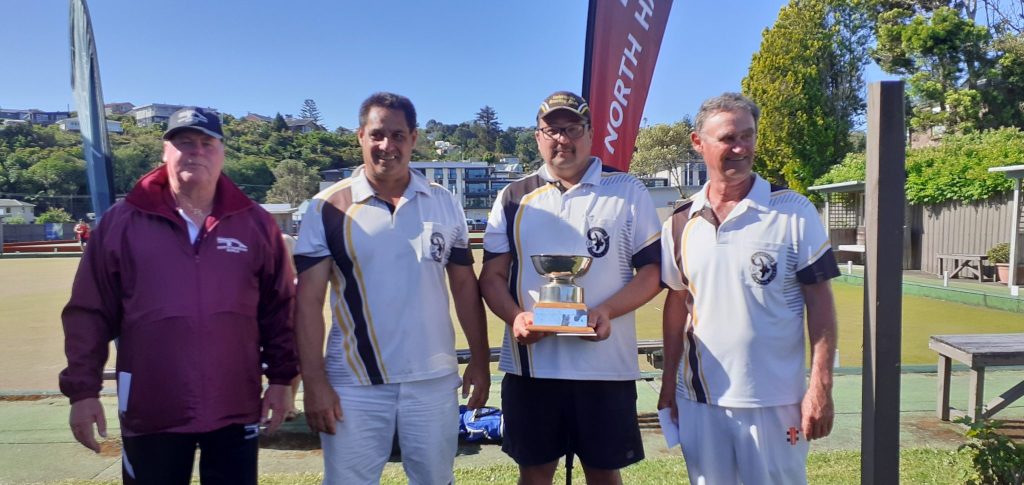 Manly's women's lineup of Trish Croot, Judy Smith and Skye Renes beat the experienced Mairangi Bay, and much decorated, triple of Elaine McClintock, Kerin Roberts and Irene Donaldson 17-13 in the final to underline how much the power balance has shifted within the centre.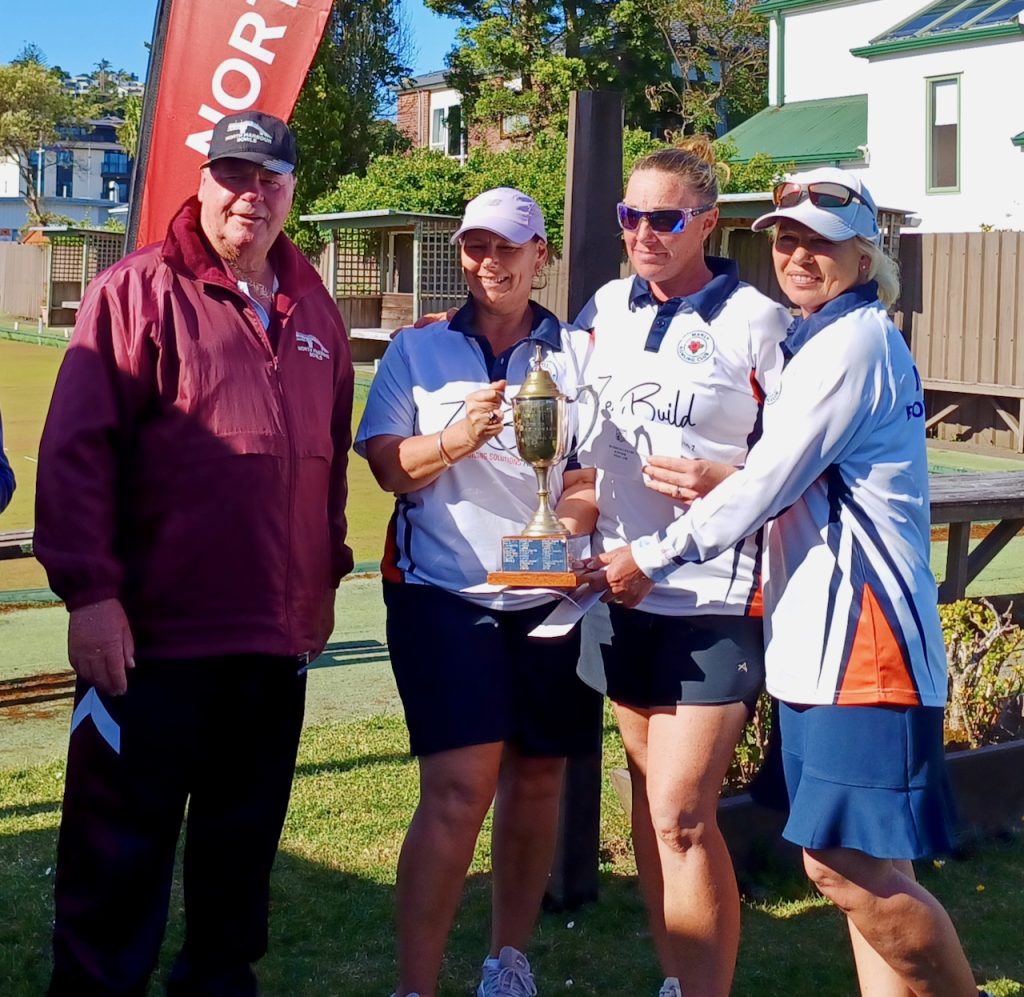 For all of the finalists were with other clubs last season. Trish was with Birkenhead, Judy with Browns Bay and Skye with Takapuna. Elaine and her team-mates were all with Orewa.
To make the final Croot's Manly beat Robyne Walker, Jacqui Belcher and Lyn Calver, from Takapuna, with Robyne's team earlier winning a play-off with the other qualifiers, Mairangi Bay's Colleen Rice, Jan Gledhill and Sheryl Wellington.
In her semi-final Elaine skipped her Mairangi Bay team to a 17-10 win over a Wendy Jensen-skipped Omaha Beach triple of Tracey Wilson and Penny Wakelin.
The final between Manly and Mairangi Bay was a tense battle in trying conditions because of the combination of a blustery wind and a fast green, but over the final few ends Manly gained a decisive upper-hand.
For Skye, who was steady at lead, it was her fourth centre title putting her within reach of a gold star while just out of juniors, for Judy her first open and for Trish, who produced some telling, trademark shots when needed, her seventh.
While the major glory was Helensville's in the men's final there was an outstanding effort from Browns Bay to just to make the final and their performance made a large gallery of mainly host club supporters justly proud.
Club stalwart Pete Sheehan had with him at two Craig Lane, a fifth-year bowler who won the centre one-to-five champion of champion singles last season, and at lead the player who was the tournament's unlikely individual star, the remarkable Llyod Sinton. At 72, just beginning his second season in the game, and playing with a bowling arm, Lloyd has had more than his share of health issues, is crippled with arthritis and had at Least two major accidents. Yet he showed mastery of his bowling arm with accurate draw bowls and was especially effective in the semi-final against Manly's Keith Benson, Andy Dorrance and Shaun Goldsbury.
Manly, with Dorrance and Goldsbury also still in junior ranks, had to go to an extra end to win a tense quarter-final with Takapuna's Brent Malcolm, Wynne Gray and Bevan Smith.
In the other quarter-finals in an all Birkenhead clash Daymon Pierson, Jack Huriwai and Jimmy Heath beat Gary Wallace, Robbie Henson and John Janssen and Sheehan's team beat Browns Bay club-mates, Brian Wilson, Jean Viljeon and Sean Mulholland and Helensville had a one-shot win over Takapuna's Simon Poppleton, Jason Parker and Ian McKenzie.
This was the same slender margin Helensville had in semi-final thriller over Pierson's Birkenhead, which made a great comeback from being 11-I down.
Despite these close wins Helensville's only other minor blemish was in qualifying with a draw against Takapuna veterans, Chris Taylor, Murray Mathison and Ian McKenzie.
In the qualifying rounds the Pierson triple had a 19-9 win over the celebrated Browns Bay lineup of Neil Fisher, John Walker and Colin Rogan, with Birkenhead progressing because of a superior shot differential.