Results – Bowls New Zealand Nationals – Women's Singles and Men's Pairs – by Lindsay Knight
In doing the North Harbour centre and the Takapuna club proud in the Bowls New Zealand, National Women's Singles Championship final, Selina Goddard took a major step towards being acclaimed as one of New Zealand's greatest ever women's bowlers.
Selina beat her Black Jack team-mate Tayla Bruce 21-20 under the roof at Orewa in a match of sublime quality to earn her, while still in her 20s, her gold star for winning five national titles.
It was sort of North Harbour double at Orewa on Thursday 5th January 2023, as Birkenhead's Tony Grantham led impressively to give Gary Lawson a third bar to his gold star and a comfortable win in the Bowls New Zealand, National Men's Pairs final over Ray Martin and Will Bennett.
It was Grantham's fourth title. However, he and Lawson were using their plural membership status and played in the colours of Auckland's Mt Albert club.
Previously Selina had won the singles in 2017, the fours in 2014 and in 2020 and the pairs in 2020.
There were several factors in the latest success which were testimony to not only her considerable skill but also to her temperament and composure under pressure.
For one, she had to overcome a formidable opponent, the winner indeed of the world champion of champion singles title late in 2022 and who, in this final, also played at her optimum best. Tayla was also defending the title she won last year.
And there were many stages when it appeared that Selina was at her mercy and on the brink of defeat.
Tayla's ability at either converting ends in her favour or reducing counts, either through aggression or her own accurate draws, enabled her to take, after 16 ends, what seemed a decisive 18-13 lead.
But Selina then showed her mettle by picking up seven shots over the next four ends to take a 20-18 lead, and to be then holding the game on the 21st end, only for it to almost slip from her grasp.
Tayla sprung the jack towards two of her wing bowls and then came close to adding what would have been the winner with her last bowl. She then drew a toucher on the 22nd end to herself again hold the game.
It was then with the last bowl of an epic game, one of the best ever women's national finals, Selina entered her name among the game's legends. Celebrated for her superb drawing, she unleashed on the back hand a perfect drive to remove Tayla's shot bowl and leave the jack undisturbed.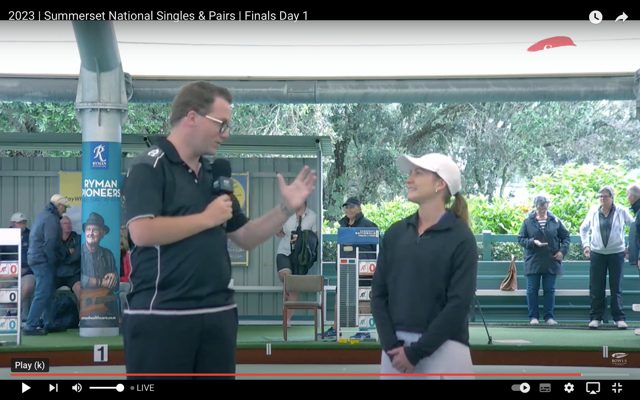 Takapuna had seven other qualifiers for post-section play; Wendy Jensen, Lauren Mills, Lisa Dickson, Keiko Kurohara, Geraldine Wight and two juniors, Skye Renes and Irene Costello. Two other juniors, Birkenhead's Millie Nathan and Mairangi Bay's Gaye Horne, also made post-section play.
All of these players had some notable wins, Gaye in particular as in the qualifying rounds she upset Tayla Bruce 21-20, playing a spectacular last bowl to remove what would have been Tayla's winning bowl. In the 1960s and early 70s Gaye was an international fencer who medalled at commonwealth Games. In that sport she also had the distinction of beating a world champion.
Millie went out early in post-section, beaten by an experienced and accomplished Taranaki bowler, Kristin Stampa, who has 15 centre titles to her credit.
Wendy Jensen and Lauren Mills were both in good form but had the bad luck to end up on the same side of the post-section draw as Selina. Selina won her match with Wendy 21-12 and that against Lauren 21-8. In the semi-finals Selina had an easy win over Auckland's Linda Ralph and Tayla beat Stampa.
Other than Grantham, bowlers from within the Harbour centre had mixed results in the men's championship pairs. Takapuna club stalwarts and life members, Chris Taylor and Murray Mathieson, made light of their combined ages of around 155 years and in dreadful conditions to make the final 16.
Having dispatched Phil and Raymond Skoglund, winners of this event in 1999, in qualifying rounds, they then one better in post-section to knock out last year's winners, the considerably younger Andrew Kelly and Seamus Curtain.
Other Harbour bowlers who qualified, some in composites, included David Eades and Bart Robertson, David Payne, Neil Fisher and John Walker, Carlson Barnett and Mark Preddy, Paul Daniels, Wayne Glogoski, Matt Higginson and Chad Nathan, Peter Nathan and Bruce McClintock, Peter Orgias and Allan Langley, Jerry Belcher and Jeremy Brosnan.