Reps Quad weekend summary by Lindsay Knight
   Encouraging results for both of North Harbour's men's representative teams in the weekend's inter-centre quadrangular tournament, but more disappointing outcomes for the women's sides.
 That was the mixed fortunes for the centre, with the men's open team at Browns Bay heading off Auckland, Northland and Counties and the one-to-five men's team also scoring a narrow victory from Auckland, Waikato and Counties at Blockhouse Bay.
 The open team could thank what proved to be a steady fours line-up for the overall win when in the last match it secured a 16-9 win.
 Head coach Gary Stevens was especially pleased with the performance of the fours. The switch at skip for the match against Counties with Graham Skellern coming in for Simon Poppleton was seamless and up front there were good contributions from lead David Payne, two Brent Malcolm and three Jeremy Brosnan.
 Birkenhead club-mates Daymon Pierson and Peter Nathan developed well as a pair and in the singles Bart Robertson was his usual consistent self.  
 "We're very pleased with the development of the squad despite the disruptions to our programme," Stevens said. "We believe that for next weekend's regional tournament we have the core of a very competitive team.
 The one-to-five men's team faced tough competition from the other centres but with six wins and a draw from its nine games secured a narrow win.
 Head coach Ian McKenzie was lavish in his praise for the efforts in the pairs of Orewa club-mates Alan McQuoid and Wayne Harris, who in six representative matches this season have been unbeaten.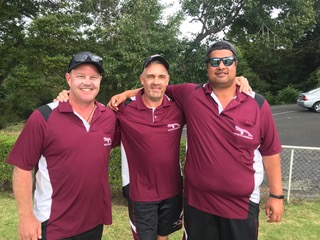 He also paid tribute to three promising players moving out of junior ranks, all of whom have been solid performers, Orewa's Matthew Higginson and Chris Searle, and Birkenhead's Chad Nathan.
 The women's open team at Browns Bay finished third behind Auckland and Northland.
 However, the side was without the services of star singles player Selina Goddard, who was away with the Black Jacks squad in trials for the Commonwealth Games. Adele Ineson and Skye Renes filled in for her with Skye putting up a game effort in losing 19-21 to experienced Aucklander Alison Rennie.
 Wendy Jensen and Lisa Dickson won only one of their pairs games and while this was disappointing head coach Graham Dorreen was confident they would bounce back next weekend.
 The four of Lauren Mills, Robyne Walker, Millie Nathan and Theresa Rogers did well with one narrow win, one narrow loss and a draw. All were solid with Theresa excellent at lead.
 Dorreen said the main focus had been on developing combinations and there had been plenty of positives.
 The women's one-to-five team finished last in its quadrangular at Blockhouse Bay. While the result had been disappointing coach Walter Howden said a frustrating number of matches had been lost only in the last couple of ends.