Region 1 Intercentre roundup by Lindsay Knight
 North Harbour representative sides came within a tantalising shot or two of achieving a notable double in the regional inter-centre contest held at Mangawhai on Sunday.
 The women's team won what became a triangular tournament after the withdrawal of Far North, comfortably heading off Auckland and Northland to qualify for the national play-offs to be held later this year.
 And the men's team, following a first round 2-1 win over Northland, looked to be heading that way against a powerful Auckland side which included high profile imports in Cantabrian Gary Lawson and Harbour's own Tony Grantham.
 Singles player Bart Robertson, who played well all day in the difficult, windy conditions, led Grantham 24-22, only to drop a two and a single on the last two ends to be nudged out by a frustrating 25-24.
 And Harbour's restructured Simon Poppleton-skipped four, with Graham Skellern coming for the indisposed Jeremy Brosnan at three and with Brent Malcolm and David Payne at two and lead, was holding the game against Auckland on the final end.
 However, two drives from Lawson removed Harbour's shot bowls to force an 11-all draw.
 In the other discipline, unfortunately, Harbour's pair of Peter Nathan and Daymon Pierson, after starting well, fell away over the final half.
 "So very, very close, but not to be," Harbour's men's coach-manager Gary Stevens commented. "It is clear that our efforts to build the strength of our squad is working and that our players are enjoying working with us to achieve the performance standards and the culture we believe are necessary to compete successfully at this level. We will continue to grow."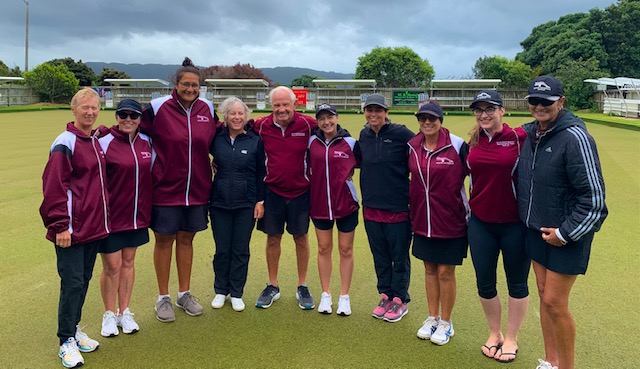 It was a happier result for the women's team and its coach-manager Graham Dorreen was elated with the effort. He was especially delighted that the tournament success was achieved with three newcomers to this level, Theresa Rogers who partnered Wendy Jensen in the pairs and Millie Nathan, who was lead in the four and Robyne Walker at three in the four.
 And the team was boosted by the return of Black Jack Selina Goddard, who won both her singles. There was also a successful switch of Lisa Dickson to two in the Lauren Mills-skipped four.
Harbour won two of the three matches against Northland losing the fours by one shot and in the second round the only loss to Auckland was in the pairs. In the 17-14 fours win over Auckland Nathan excelled at lead and Mills played a great draw shot on the last end to snatch the game and the overall result.