Mixed 2-4-2 Pairs – Commentary from Lindsay Knight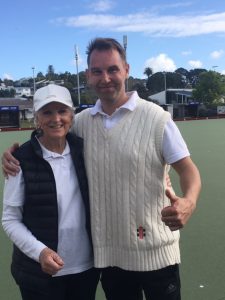 Birkenhead's Daymon Pierson and Orewa's Christeen Dalzell repeated their success of the 2015-16 season by winning the centre's 2-4-2 mixed pairs championship at the weekend.
  In Sunday's final at Browns Bay, which maintained the high standard of the tournament overall, they pipped experienced Takapuna bowlers Trevor Forward and Connie Mathieson 11-10.
 Pierson thus took himself within one of a centre gold star, while Dalzell already has that distinction, as has one of the beaten finalists, Forward.
 For the Takapuna pair it was a continuation of a frustrating run for their club of runner-up positions in the past few months.
 But while Pierson and Dalzell, because of their consistency, thoroughly deserved their success, it was a near thing. Forward all but nailed a third shot with his last bowl, which could have forced the match into an extra end.
In the semi-finals Pierson and Dalzell had an equally close battle with Browns Bay's Brian Wilson and Orewa's Jan Harrison, winning a quality match 10-8.
 Forward and Mathieson won their way into the final with another close contest decided by a single shot. On this occasion it was 15-14 in their favour against Birkenhead veteran Lionel Drew who teamed up with Mairangi Bay's promising Theresa Rogers.
 Drew and Rogers were involved in an earlier single point thriller, 14-13 in the quarter-finals against international Wendy Jensen and a newcomer to the Takapuna club, Simon Poppleton.
 The tournament's high standard was emphasised by the 2018-19 champions, Birkenhead's father and daughter duo, Peter and Millie Nathan, losing in the quarters and the failure of Takapuna's other Black Jack, Selina Smith, and multiple centre champions, Colin Rogan and Elaine McClintock, to make post-section play.  Orewa's Irene Donaldson and Ted Jackett, both relatively inexperienced, ousted Rogan and McClintock by yet another single-shot margin, 17-16.