Junior Interclub – Summary by Lindsay Knight
---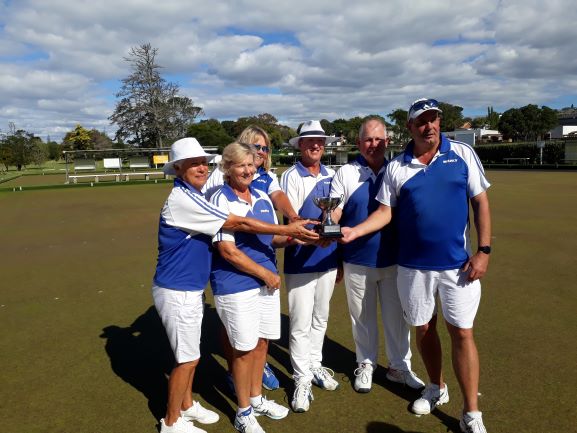 The Manly Falcons scored a deserved win when the centre's one-to-five interclub
 Championship was decided at the weekend.
  In a tense final at the Sunnybrae club Manly held off a strong challenge from Takapuna gold to become North Harbour's representative at the regional tournament in Whangarei in early May.
  Manly won the final two games to one, with the outcome being determined by a thrilling singles match between Manly's Andy Dorrance and Takapuna's Keith Stevens.  Dorrance won 21-19 but only after Stevens, recovering from a slow start, had shown commendable tenacity.
 Takapuna's one win in the final came from its well performed triples combination of Graeme Blackmore, Derek Brien and Irene Costello, but in the pairs Manly's impressive duo of Keith Benson and Kathy Stevens prevailed over Takapuna's Jan Calcott and Skye Renes.
 The other members of the successful Manly side were the triple of Colin Love, Sandy Wilson and Huia Eru and overall the win a reward for Manly's consistency.
 In its semi-final Takapuna ousted Orewa in another tight contest which was decided by the singles clash between two second-year players, Stevens and Orewa's Paul Daniels.
 In a quality game, which belied each player's inexperience, Stevens again made a spirited recovery to come from an early 10-3 deficit to win 21-16.
 In the other semi-final Manly beat Mahurangi East.
 Birkenhead, last year's champion, did not survive the quarter-finals, even though it had as its singles player the best player in the competition, Millie Nathan, who was in superb form.
  But in the quarter-final against Takapuna her team-mates lost a crucial pairs match to Renes and Calcott.
 This was the first time the one-to-five competition has been held over a weekend rather than as a weekly twilight event on Mondays and the consensus of most players was that it was a successful innovation.