John Miles – Mairangi Bay's Nonagenarian still winning titles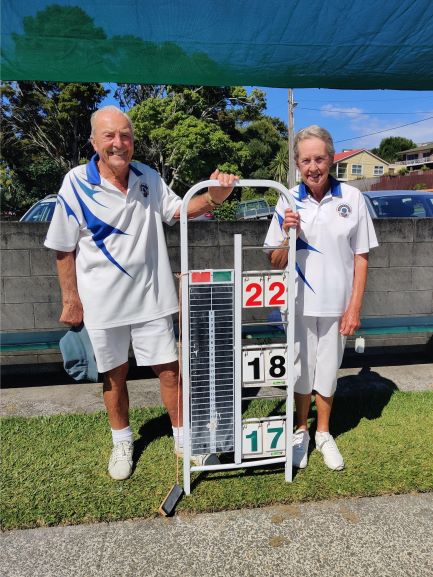 Playing six hours of bowls, especially on one of the hottest days of an Auckland high summer, is exhausting even for lawn bowlers in their teens, 20s or 30s.
  But for a nonagenarian to regularly do this, as Mairangi Bay stalwart John Miles does in his club's open tournaments, is a monumental, mind-bogging achievement.
 Not only is he a regular participant in Mairangi Bay's and other North Harbour clubs' tournaments, he still plays in club championship events, having recently taken out with Caryl the mixed pairs title.
 If any particular bowler within the Harbour centre exemplifies bowls' best values it is this 95-year-old, who took up the game 36 years ago and is still going strong. And all those years have been spent at the one club.
 For as well as playing Miles has been an active contributor off the green, in mainly practical roles and especially looking after greens. That service has been recognised with an award some seasons ago of life membership.
 "There are a lot of benefits to be gained from bowls," he says. "There is the friendship and the companionship and it is a beneficial, gentle exercise. Even people with incapacities can play and enjoy the game.
 He has no doubt that it is bowls which has had a role in his own longevity. "The Mairangi Bay club has become my second home and the people there my second family."
 As well as being perhaps the oldest active player within the Harbour centre, Miles has one other distinction. As a member of the Royal Air Force's air crew until he migrated to New Zealand in 1967, he is one of the last survivors, at least in the bowls community, who saw active service in World War II.
Originally from Kent in England, he decided to migrate to New Zealand on leaving the RAF because his mother had a brother living in New Zealand. Good family genes have been another contributor to both his longevity and continuing good health.
 In his younger days badminton was his main sporting passion and while he modestly claims to have been moderate player he must have had some ability which he passed onto his son, also John, who was good enough to be a New Zealand representative.
 Not long after his arrival in New Zealand he married Caryl and when she took up the game she proved to be the family star.  As an impeccable draw bowler, she has achieved almost legendary status within the centre. She had been playing the game only a couple of seasons when she won her first centre title, the 1988-89 champion of champion pairs. Since then she has amassed a staggering 18 titles, adding two bars to her gold star and her recent win with John in the Mairangi Bay mixed pairs has given her an astonishing 50 club titles.
 John hasn't had quite the same success but while he hasn't won a centre title he has a handy number at club level. Naturally enough, given Caryl's status in the game, he welcomes the greater involvement between the genders of the past 20 years.
 The game, he says, has undergone many changes in the years he has been involved, but all were necessary. "If some of the old ways and attitudes had remained the game would have been losing more members. The changes had to come."   
Lindsay Knight