Is May Evans the oldest bowler in New Zealand?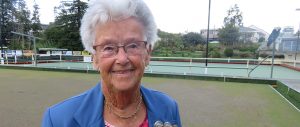 Looking good at 96
The night May Evans celebrated her 45th birthday, she was probably doing what most New Zealanders were doing on that night – crowded around the radio listening to Paddy O'Donnell reporting on the foundering of the 'Wahine' in Wellington Harbour. Tropical cyclone Giselle raged outside, although because May was in Auckland, not so 'ragey' there, as it was further south.
The weather was much kinder this year on the 10th April, when May celebrated her 96th birthday with the family, and a day later enjoyed a surprise birthday celebration at her bowling club of 32 years: Bowls Warkworth.
Amazingly, at 96, the spritely diminutive May is still playing bowls. We're not just talking about a few ceremonial roll-ups to open the club season. Or clasping a bowl in her hand to keep the photographer from the local rag 'Matakana Matters' happy. We're talking about serious tournament bowls … every week.
And May isn't just filling in the numbers by leading for a Four. She's out there skipping … and doing the hard yards standing on the head and directing her team. When other nonagenarian bowlers have succumbed to plastic knees, plastic hips and plastic hearing aids, May has just kept on keeping on. She is the Energiser bunny of bowls. And we reckon she may well be the oldest person playing bowls in New Zealand.
You've got to believe there's something in the family genes worth bottling. May has a twin sister Ellenor (albeit non-bowling) still living on the North Shore. And even then, she and Ellenor are the youngsters. They have an older former-bowling sister Gwen in Kerikeri who's 99. Indiana Jones would've got more excited about their family genes than anything the Holy Grail might have promised in 'Raiders of the Lost Ark'.
They are genes that have allowed May to build an impressive portfolio of bowling credentials
.
Before amalgamation with the men, May was made a life member of the Warkworth Women's Bowling Club. She had been President, Treasurer, Coach, Winter Coach, Match Committee Convenor, and even that person who used to patiently affix the little brass plaques engraved with the winner's name to the trophy shields.
Her club playing record had been and still is equally impressive: Winner or Runner-up in the Championship Singles twice, the Pairs 6 times, the Triples 4 times and the Fours 4 times. She has also performed well at Centre level: 2nd in the Veteran Fours in 1991/92; 3rd in the Championship Fours in 1992/93; 3rd equal in the Veteran Fours in 1996/97; 2nd in the Centre Pairs in 1996/97; and 2nd in the Graded Fours in 1999/00. In 2006 she won the BNH Champ of Champ Triples with Eileen Trotter and Joy Harper-Keeley.
But it's not so much what she's done, but what others say about her in the club that is most impressive. The glowing comments are without exception – she is obviously well loved … universally.
"May took me under her wing, coached me, played with me and introduced me to the North Harbour reps," recalls Club President Joy Harper-Keeley at May's birthday celebrations. That sort of comment is reinforced by club member Jim Letcher: "May was my coach for 20 years … what a problem she had!"
But that's the way May operates herself. "You don't do it on your own," she believes. "Others help you along the way."
It's that modesty … the feting of the receiving rather than the giving … that has created a loving club around her, and a loving family around her as well. Although husband Arthur passed away 26 years ago, May continues to enjoy a large family about her: her two sisters; her 3 children; 7 grandchildren; and 7 great grandchildren.
But at 96 she's also conscious of her own responsibilities to living, and is guided by two simple philosophies which keeps her skipping in bowls: "If you don't use it, you lose it" and "Keep on doing what you can while you can"
There may also be a third even more simple 'philosophy' that makes May a contender for New Zealand's oldest bowler – she enjoys a daily scotch. 
Her enjoyment of a little rye is no secret. And certainly not a secret in the club.
In fact to ensure that May sticks around playing bowls for a lot longer, the club presented her with a longevity-giving bottle of the best for her special day.
Happy birthday, May. Thanks for being you.
-Rob Davis