Elizabeth Ring and the Womens Triples. Writeup from Lindsay Knight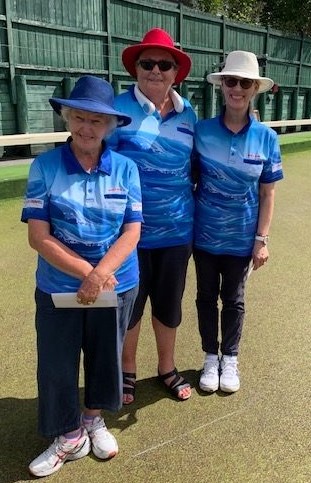 She may not have won a title, but in coming so close Orewa's remarkable veteran
Elizabeth Ring almost upstaged the other star of the weekend's women's triples championship, one of North Harbour's most decorated bowlers, Wendy Jensen.
 In the final of the women's championship triples she all but skipped her line-up of Tira Campbell and Michelle Kean to what would have been a sensational win over Jensen's Takapuna line-up of Trish Hardy and Skye Renes.
 Thanks to some superb bowls from Jensen, now in the form which won her Black Jack honours, the Takapuna threesome recovered from a 10-nil deficit after four ends to win 17-16.
 But as dominant as was Jensen in inspiring her players so too was Ring for Orewa, both in wresting the shot away from the opposition with immaculately weighted draw shots or with accurate run shots.
 To make the final she played the telling blows in Orewa's one-shot win over another strong Takapuna combination, that of Robyn Walker at skip, Lisa Dickson at two and Anne Dorreen.
 The Walker team looked to have snatched the win recovering from a 11-1 deficit when Dorreen on the last end drew what seemed to be the two winning shots. But with a run shot that verged on being a full-blooded drive Ring blasted the jack into the ditch for the winner.
 That Ring was able to play such splendid bowls over Sunday's three rounds was a tribute to not only her bowling expertise but her stamina and fitness. For she is a sprightly 84 years of age and has been playing the game for 42 years.
 Originally from England's Lake District, Elizabeth has been playing bowls for 42 years, starting in South Africa where she emigrated and spent 30 years before returning to England and then coming to New Zealand 13 years ago.
 In South Africa she could only play on weekends because of work and so learnt to play the game by playing with male bowlers. She has been often accused by more genteel lady bowlers of playing like a man, and for that she offers no apologies.
 She has the distinction of having played representative bowls in three different countries, with a province in South Africa, Cumbria county in England and for North Harbour at premier two level.
 And while some may think she has somehow blushed unseen she does have three centre titles to her name, the champion fours with Manly in 2011-12, and the champion of champion fours with Manly in 2016-17 and then with Orewa in 2019-20.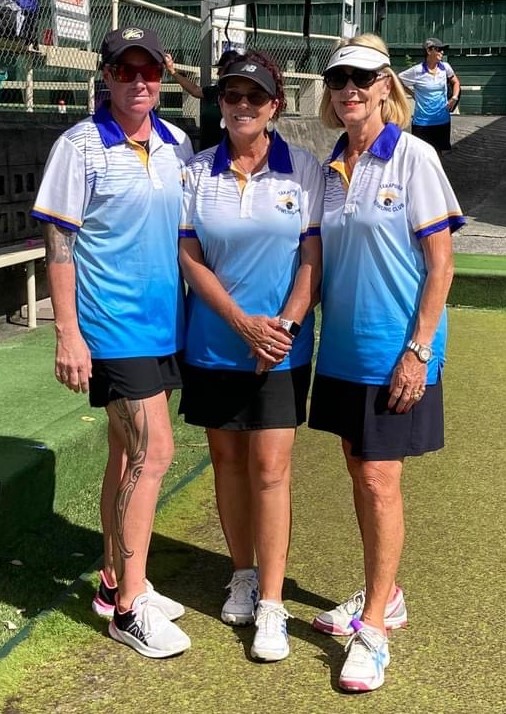 The Jensen triple also had cause to thank Jensen for surviving a tough semi-final against a gallant Mairangi Bay team of Sheryl Wellington, Jan Gledhill and Colleen Rice, again by a single shot margin.
 Jensen then in the final against Orewa went on to win her 12th Harbour title and she and Trish hardy continued a grand run which recently saw them win the lucrative Birkenhead pairs. It was Hardy's third centre title and Renes' second, a notable feat as she is only a fourth-year player.
 Hardy played some effective bowls to help the recovery in the final and Renes put her opening bowl on the jack on the crucial last end to put the pressure on Orewa.
 The other quarter-finalists came from the Takapuna and Orewa clubs, the two other Takapuna teams being skipped respectively by Jacqui Belcher and Keiko Kurohara and Orewa's by Elaine McClintock and Maureen Howden.