Champ o f Champ Fours Roundup – Lindsay Knight
  Riverhead and Takapuna were the successful teams when the centre's champion of champions fours titles were decided at the weekend.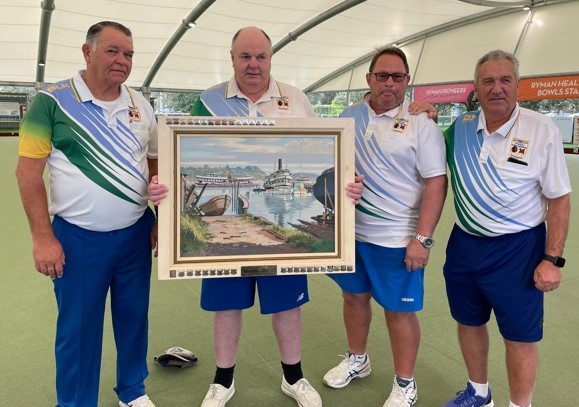 In the men's final under the Orewa roof on Sunday a Riverhead line-up of Grant Goodwin, Gordon Smith, Duane McDonald and Lindsay Gilmore had a comfortable 19-8 win over Takapuna's Jerry Belcher, Bob Telfer, Brett O'Riley and Jeremy Brosnan.
 That denied a Takapuna a double, for the club's women's four of Wendy Jensen, Anne Dorreen, Trish Hardy and Skye Renes played impressively in their final against a gallant Mahurangi East side winning by an emphatic 19-3.
 In the opening round of qualifying Riverhead put itself into a strong position to take the men's title by ousting the favoured Browns Bay combination of Neil Fisher, John Walker, Colin Rogan and Brian Wilson by coming from behind to win 19-15.
 In the semi-finals Riverhead eliminated another leading contender in Birkenhead's Nigel Drew, Mark Rumble, Lionel Drew and Marty Short 16-8 and continued that good form against Takapuna, which won its semi-final 13-7 against Mairangi Bay's Peter Orgias, Alan Daniels, Kevin Robinson and Allan Langley.
 It was a second Harbour title for Goodwin, who replaced at skip an indisposed Steve Cox and a third for each of Smith and Gilmore, though both Goodwin and Gilmore have had plenty of success elsewhere, notably Goodwin in the Auckland centre.,
 But it was a first centre open title for McDonald, who finally enjoyed a victory after having previously been a runner-up in championships on eight occasions.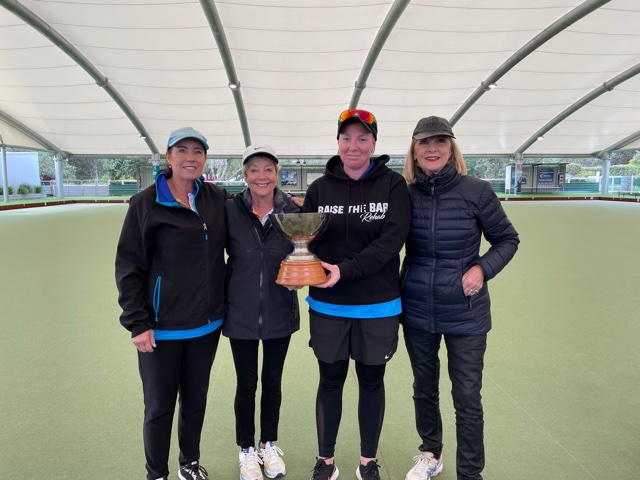 It was also a first open centre title for Renes, just a third-year player who was Takapuna's lead in the women's final.
 But for Jensen and Dorreen it was another addition to what are glittering CVs, the 11th Harbour title for Jensen and the 12th for Dorreen. For Hardy it was her third title in just two seasons as earlier this season she was in the four with Jensen and Dorreen which won the centre championship.
In Saturday's qualifying rounds, however, Takapuna on its home carpet was pushed hard by Helensville, Milford and then in the semi-finals by a Mairangi Bay four which was skipped by a junior in Gaye Horne and contained two other juniors in Joy Watkinson and Louise Ball.
 Its only experienced player at two was the admirable Caryl Miles, now 84 and over a 30-year bowling career with a host of centre titles to her credit and a deserved reputation as one of the centre's best draw bowlers.
 And earlier against some excellent performances in particular by Helensville skip Joy Connell and the Milford quartet of Alwine Barlow, Laraine Moore, Jan Hutton and Sue Dixon Takapuna relied heavily on the brilliance of its international skip, Jensen.
 But in the final against Mahurangi all of the Takapuna players gelled beautifully in a superb team performance.
 Takapuna's main threats were probably the Elaine McClintock-skipped Orewa four and the Ruth Lynch-skipped Birkenhead four But Orewa was downed in the first round by Birkenhead, which in turn was eliminated in the next round by Mairangi Bay.