Bowls New Zealand Summerset Awards 2020 Coach of the Year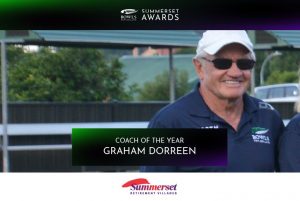 Graham Doreen is again top of the pile in this country, recognised as the Summerset Bowls New Zealand 2020 coach of the year.
It's the second time Doreen has picked up the prestigious award, after taking the honour in 2017. He was also a finalist for the award in 2018 and 2019.
"Graham brings unrivalled passion for the sport and for the role of coach," says Bowls New Zealand high performance manager Kaushik Patel.
"And he is always putting the athlete first, second and third. Those are his words, that's his motto."
"In 2017 [he was recognised] after being in charge of the North Harbour under-five teams that won back to back national titles," adds Patel. "But this time round it is more about specialist coaching on a one to one basis."
Doreen is personal coach to Selina Smith (nee Goddard), who picked up national titles in the fours and pairs in the 2019-20 season, as well as two North Harbour centre titles
Fellow Black Jack Wendy Jensen is also mentored by Doreen, along with North Island representatives Lisa Prideaux and Leanne Poulsen

He was one of Bowls New Zealand's eight high-performance coaches, though has stepped away for the upcoming season.
Doreen is also in charge of the national women's development squad and was the women's coach for the third Trans-Tasman test earlier this year.

In the 2019-20 season Doreen coached the North Harbour centre premier women's squad, after enjoying previous success with the men's team.
He focussed on strengthening the base of talent and this was reflected in results; Harbour trumped Auckland in the battle of the bridge and was first equal in the final quadrangular tournament.
But Doreen's influence has stretched beyond national and centre levels.

At his beloved Takapuna club he has led a coaching team which have had a profound influence on rookie and junior bowlers.
There have been strong gains, a testament to Doreen's ability to analyse technique and provide calm, effective and positive motivation.
At the North Shore club Doreen has also run evening skills sessions for large groups.

"He's been a major influence at Takapuna bowling club and that club has gone from strength to strength under his watch," says Patel. "[Graham] is most effective at the club and centre level and works with the elite levels within the realm."
Patel observes that Doreen is also driven to improve, and not afraid to think outside the square.
"He runs specific skills sessions, including mental skills sessions," says Patel. "He has engaged a mental skills specialist, at his own expense, to help his bowlers on a regular basis and we have seen the dividends from that.
He has had a significant impact on the sport and is a deserved winner."
The other finalists in the category were Anne Craik and Emily Robbins.

Congratulations Graham!