Birkenhead win the Mens Interclub Sevens by Lindsay Knight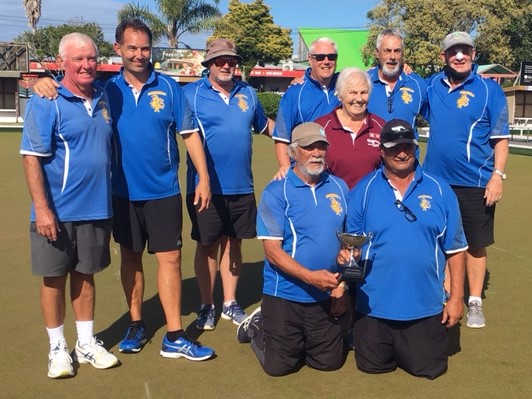 Peter Nathan stepped into the illustrious shoes of international bowler Tony Grantham and filled them with distinction to spearhead Birkenhead to a deserved win in the North Harbour men's inter-club sevens competition at the weekend.
 With Grantham in trials for the Black Jacks Commonwealth Games team, Nathan replaced him as Birkenhead's singles specialist for the finals at Browns Bay and achieved a perfect record.
 His 21-9 quarter-final win over Milford's Charlie McDonald anchored Birkenhead's 3-0 win in that match and his 21-6 win over Takapuna's Brent Malcolm in the semi-final helped Birkenhead to a 2-1 win in that contest.
 Then in the final he accounted for Browns Bay's Brian Wilson, recently a close runner-up in the centre singles championships, 21-17 to provide one of the two wins Birkenhead needed to take the title.
 Nathan's excellence was a reminder of his singles expertise. For as well as winning the centre mixed pairs with his talented daughter Millie in 2019 he himself was the centre singles champion in the 2013-14.  As a junior with Glenfield in 2008 and 2010 he was the centre's one-to-five singles champion.
 But it would be wrong to assume Birkenhead's success in the sevens was simply down to Nathan's heroics for overall it was an exemplary team effort.
 Evan Thomas and Daymon Pierson were strong in the pairs as was the Nigel Drew-skipped four of Jack Huriwai, Marty Short and Mark Rumble. Both in the qualifying rounds and on the final day Birkenhead was the essence of consistency.
 Thomas and Pierson in particular were pivotal in the final, winning by one shot in a cliff-hanger against Brown's Gideon van den Bergh and replacement player John Feast.
 Birkenhead's wins in the singles and pairs made the fours result irrelevant, with another tense contest between Drew's four and Browns Bay's Neil Fisher, John Walker, Lindsay Gilmore and Colin Rogan being called off at 11-all.
 The sevens win capped off a rewarding few days for Birkenhead, with the club still rejoicing in the three-five victory from last weekend of Sandy Cleghorn, Robbie Henson and Maxe Janssen.
In the other quarter-finals Browns Bay beat Orewa 2-1 in another close contest, decided effectively in the singles by Wilson's 21-20 win over Willie McIvor, Mairangi Bay beat Riverhead 3-0 and Takapuna beat Helensville 2-1, with centre singles champion Bart Robertson Helensville's only winner.
 In the semi-finals Browns Bay beat Mairangi Bay 2-1 and Birkenhead's only loss to Takapuna was in the pairs when Thomas and Pierson lost to Brett O'Riley and Jerry Belcher, the latter being in especially fine form.