2019 C.O.C 1-5 Singles Results
   The excellent season enjoyed by Mairangi Bay's juniors was enhanced when North Harbour's one to five year champion of champion singles titles were decided at the weekend.
 Impressive winners on the slick Browns Bay greens were Theresa Rogers in the women's and Phillip Chisholm in the men's. Both have been among the centre's most promising juniors in the past couple of years and featured in the Mairangi Bay side which won this season
 twilight Inter-club competition.
 Rogers won her final over Warkworth's Jules Loubser 21-9 and Chisholm won the men's final in a more tense contest, 21-17 over Manly's Keith Henson.
 In the semi-finals Rogers beat Takapuna's Geraldine Wight 21-15 while Loubser prevailed over Helensville's Michelle Kean 21-17. Soon to leave the one-to-five ranks, Rogers in her brief bowls career has compiled an imposing CV and is close to clinching her open gold star.
 Chisholm was an impressive winner of his semi-final over Takapuna's Gordon Jenkins, and Benson won a thriller, 21-19 over Orewa's Willie McIvor.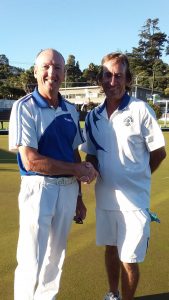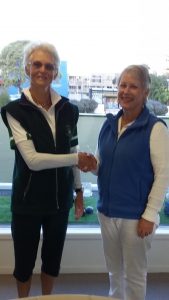 2019 1-5 COC Singles 2018-19 Mens Final results